Choose Resume and Cover Letter Words Wisely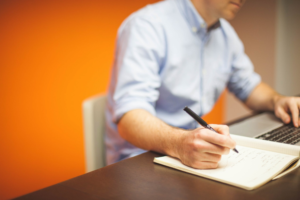 If only writing resumes and crafting cover letters were a matter of waving a magic wand and compelling content would appear on the page. It can be a struggle producing these documents. Some people are uncomfortable marketing themselves and others are not confident writers.
Resumes and cover letters need to be attractive to the reader in terms of language and formatting. More than ever, they must also meet the requirements of Applicant Tracking Systems.
We're here to help so you can tell your unique story in the best way possible.
In our Dec. 21 blog, we provided guidance on how to make words count –https://bit.ly/2Z91sng. This time, we delve further into words and phrases to avoid and others to consider adding to your job search vocabulary.
Put yourself in the seat of someone reading resumes and cover letters for hours every day. Can you imagine them reading the same jargon and overused terms over and over? Focus on action words and language that explains your contributions on each job and how you made a difference.
Delete obvious content such as References Available Upon Request. Instead, be prepared to provide them, when asked. Rather than saying you are an excellent communicator, demonstrate how you put your verbal and written skills to work.
Staff at The Work Place in Grande Prairie can guide eligible unemployed or underemployed clients (visit www.gpworkplace.ca for details) on how to prepare resumes and cover letters that employers will want to read.
They can also assist you with your other job search tools and ensure you're using all the resources available to you, including accessing potential training opportunities (see contact details below). Your strategies may include updating or acquiring new skills.
Check out these resources for ideas on how to select better words and phrases for your resumes and cover letters:
http://careerimpressions.ca/blog/2019/07/words-and-phrases-to-avoid-on-your-executive-resume/#sthash.rijc9dw4.dpbs
https://www.glassdoor.com/blog/21-words-to-never-include-in-your-resume/
https://www.randstad.ca/job-seeker/career-resources/resume-tips/12-overused-resume-phrases-its-time-to-delete-from-yours/
https://www.indeed.com/career-advice/resumes-cover-letters/words-to-avoid-and-include-on-a-resume
https://www.thebalancecareers.com/top-words-to-include-and-avoid-in-your-resume-2063329
https://alis.alberta.ca/look-for-work/resumes-and-references/use-action-words-to-get-the-job/
Remember, your resume and cover letter are meant to get you an interview. Take care to use words and phrases that reflect you and best describe your capability to meet the job requirements.
Words are powerful tools. Make sure yours are helping you elevate your opportunities.
If you want more help with your job search at no cost, contact us at 780-539-5477. You can send enquiries to info@gpworkplace.ca. Our office is located at #105, 9840-97th Ave., Grande Prairie.
 We also help employers find qualified candidates.