The Transition to Employment Service at The Work Place has helped hundreds of Grande Prairie and area residents find new jobs and prepare for employment since launching in 2008.
We're contracted by Alberta Labour and Immigration to deliver customized employment supports at no cost to help individuals find their next opportunity.
This assistance varies depending on the needs of the client. To learn if you're eligible for the service, check out the contact information at the end of this article.
Employment consultants can review and develop your resume and help prepare targeted cover letters. They also research training and skills development options for job or career transitions.
Clients receive help navigating the virtual world of online job search, including guidance on enhancing their professional profile on platforms such as LinkedIn.
Individuals have access to customized career coaching, including instruction on how to succeed in interviews.
Clients attend virtual workshops and gain valuable skills, tools and knowledge to become more marketable. They learn about other community resources and networking opportunities.
In person meetings are by appointment only.
Some recent success stories
Dave Westwell      
Dave's now working full-time but had never previously needed a resume when he started accessing services at age 53.
"Joyce and Catherine made such a big difference in helping me update my information and create a resume.
"I'm not very technologically advanced and they helped me navigate Zoom, renew some expired tickets and search and apply for positions. I was very lost in how to proceed with the process and they were my angels. I am so happy to have met both of them. They were phenomenal, and really know what they're doing.
"I thank my lucky stars this place is here and just very, very thankful they were able to help me."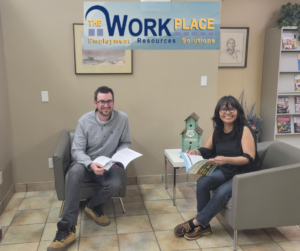 Nick Kardas
Nick wanted to pursue a career in the electrical field though his education was in another area. He was keen to get his foot in the door of a specific employer with no luck.
Then, he came in contact with Denise Carlson, Manager at The Work Place, and his fortunes changed.
She advised Nick that to be successful in his quest, he'd need to make some changes to his resume.
"I then began to work with Catherine and Sai on my resume. They structured it around key words to get the company's attention – something I'd been oblivious to doing.
"I received a call from the company for a set of interviews several days after submitting my resume. I then did some interview coaching with the team. Within two days of the final interview, I acquired the job I'd been after for many years!!! I couldn't be more pleased with the outcome."
Kayla Kempert
With guidance from The Work Place, Kayla has just begun exploring options beyond the field where she'd been employed for several years until her layoff due to a lack of work.
"The Work Place helped me overcome my fear of seeking employment outside family law. They helped me see that I can be valuable to many organizations, providing job leads for positions I probably would have never applied t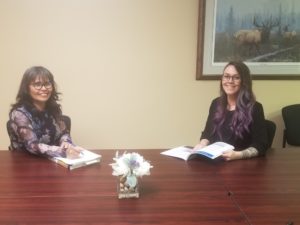 o before. I have a brand new resume and confidence in myself.
"I'm happy to say I now have options and I'm interviewing for multiple positions."
The Work Place provided Kayla with resume/cover letter review and editing assistance, Zoom and in-person meetings, interview preparation coaching, and job leads.
"The atmosphere at The Work Place is very welcoming. The world is rapidly changing its hiring practices. Catherine guided me through the process and made me feel confident while searching for a new position, helped me revamp my resume and provided a second set of eyes on cover letters.
"Catherine and Sai both work diligently to prepare me for the interview process. I am so grateful our community has this support, I don't think I would have been as successful without The Work Place and its amazing staff."
Here to Help
"Helping clients to find their next job is a privilege not too many people could have in their lifetime. The trust, respect, and efforts provided by our clients inspires me to work even harder to assist them in achieving their goals. Every day with our clients is always a fulfilling experience."
-Sai Tejol, Employment Consultant, The Work Place
How to Reach The Work Place
To receive more information and/or book an appointment, call Luanne Kuzma, Employment Advisor, at 780-539-5477, ext. 5, or email: info@gpworkplace.ca