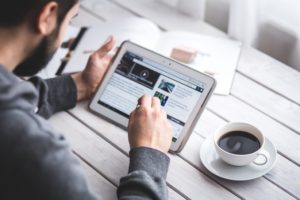 If you're involved in a job competition or are being recruited for a position, you can be assured the potential employer will check you out online.
The first link within this article notes this effort is more directed at confirming details in your resume than digging up dirt. However, you don't want to lose opportunities because what your online reputation reveals.
That means you should ensure your job search documents – paper and digital – and online professional presences such as LinkedIn are factual. It's also important you review your social media profiles and posts to make sure they do not raise red flags.
Staff at The Work Place in Grande Prairie can guide eligible unemployed or underemployed clients (visit www.gpworkplace.ca for details) on how to go online to see what prospective new managers would find. They can advise you on how to develop a professional online presence.
Our staff can also assist you with your resume and cover letter and ensure you're using all the resources available to you, including accessing potential training opportunities (see contact details below). Updating or acquiring new skills may be part of your action plan.
Things to review online include photos showing you engaged in activities that could be deemed as immoral or illegal or making racially, sexually or religiously insensitive remarks. That doesn't mean you shouldn't be politically active. There's a provincial election expected in Alberta this year and a federal vote will also be called. It's just wise to avoid dropping F-bombs into your content.
Have you ever tried Googling yourself? It's a good idea to take this step as part of your job search process, just in case something from years ago is online and you have the opportunity to remove any questionable content.
If you're in job search mode, think before you post. If in doubt, leave it out – on any social media platform, including Facebook, Twitter, Instagram and LinkedIn. Also be aware images you're tagged in can cause you grief.
The old adage was that if you don't want to see it in the newspaper tomorrow, don't do it or say it today. The same principle applies in the digital age – but much more so. It also should be noted that individuals have been fired from a job when questionable content has come back to haunt them.
The first link offers more advice on managing your online reputation. The second discusses the downside of not being truthful on your resume.
If you want more help with your job search at no cost, contact us at 780-539-5477. You can send enquiries to info@gpworkplace.ca. Our office is located at #105, 9840-97th Ave., Grande Prairie.
We also help employers find qualified candidates.
Learn more about our programs and services at www.gpworkplace.ca