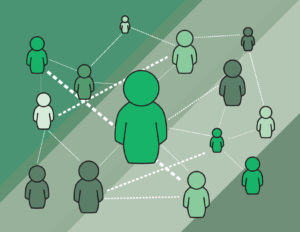 You've updated your resume, have well-written cover letters and applied to numerous positions. How are you doing with your networking?
It's an old maxim that who you know is often a stepping stone to success. That's still very true in the job market, even in a time of Applicant Tracking Systems and online recruitment sites. Your ability to get a referral could be just the thing that puts you ahead of your competition.
Networking can occur in many forms. These range from connecting with long-time or new contacts on LinkedIn/other social media to approaching classmates at a school reunion to reaching out to other attendees at an event or even volunteering and seeking informational interviews.
Your comfort level will determine how far you're willing to venture.
A recent post by Career Impressions on LinkedIn recommends beginning with friends, family, colleagues, professional contacts, professional forum members, and alumni.
"Your network is comprised of all the people that you know and also all the people that THEY know. Just because you don't know someone personally at a company of interest doesn't mean you are out of luck. Try to find a 2nd or 3rd degree connection to them and ask to be introduced. Keep in mind that good networking requires relationship building and relationship management.
"If you haven't talked to someone for many years (or at all), don't let your first contact with them be: "Hey, can you help me get a job at your company?" Engage with individuals regularly and make sure they know *what* you are good at and what you are *looking* for."
Staff at The Work Place in Grande Prairie can guide eligible unemployed or underemployed clients (visit www.gpworkplace.ca for details) on how to network effectively.
They can also assist you with your other job search tools and ensure you're using all the resources available to you, including accessing potential training opportunities (see contact details below). Your strategies may include updating or acquiring new skills.
A study by Jobvite in the graphic below shares that friends and professional connections top the list of job resources. So if you are job searching – or thinking about changing jobs – don't forget about asking your friends!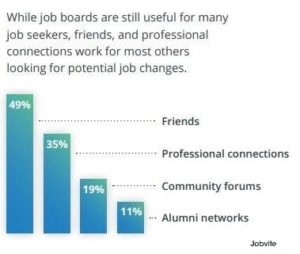 Here are four links to help employment seekers with tips on effective networking:
https://www.myworldofwork.co.uk/getting-job/networking
https://www.thebalancecareers.com/top-career-networking-tips-2062604
https://pwp.vpl.ca/siic/job-search-resources/networking-for-employment/
https://blog.ttisuccessinsights.com/how-to-network-authentically
This last resource is a YouTube video that provides some alternative thoughts to what we typically think of networking:
https://bit.ly/2DhBu87
Whatever form(s) of networking you choose when job searching will be a big plus over simply casting your net in the marketplace and hoping you'll snare that dream job. If networking isn't part of your normal routine, start out on some familiar ground, but don't be afraid to try one of the many tactics in the resources we've provided.
If you want more help with your job search at no cost, contact us at 780-539-5477. You can send enquiries to info@gpworkplace.ca. Our office is located at #105, 9840-97th Ave., Grande Prairie.
We also help employers find qualified candidates.