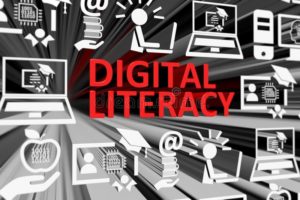 The Work Place has added another resource to its toolkit of services for unemployed and underemployed individuals in Grande Prairie and area.
We're now one of two locations in Alberta – and four in Western Canada – to join Northstar Digital Literacy, developed in response to the needs of job seekers who may lack the digital literacy skills required to seek, obtain, and retain employment.
Communication and accessing information is increasingly through Internet platforms, social media and mobile devices. Success in today's work environment and everyday living is also heavily dependent on performing basic tasks on computers.
Joining North Star (https://www.digitalliteracyassessment.org/) allows us to proctor assessments for digital literacy and provide our clients with access to online training modules that offer basic skills in key areas required in today's workplace.
Modules focus on three key areas:
Essential Computer Skills – Computer and Internet Basics, Email, Windows and Mac Operating Systems
Essential Software Skills – Word, Excel, PowerPoint
Using Technology to Accomplish Tasks – Social Media, Information Literacy (the ability to find and use relevant information), Employment Search Skills, and Your Digital Footprint (being aware of what you post online)
Participants receive certificates when proctored modules are completed.
This new offering is just one of the resources/assessments we provide to identify and/or develop your work-related skills.
The Work Place provides a wide range of services to clients at no charge via phone, video technology and email, including:
One-to-one employment coaching services are available via phone and/or Zoom meetings;
Access to employment-related workshops, including Employment Café (information on labour market trends, projects, and job leads) and Job Hub (connecting employers and job seekers);
Assistance to develop/fine tune your job search skills and documents: resume, cover letter, interview skills (including digital interviewing), online job search, LinkedIn Profile, and networking; and
Information on community resources in Grande Prairie.
Our Employment Specialist continues to work with employers to meet their immediate hiring needs and search out job opportunities for clients.
We regularly post blogs highlighting job search resources and upcoming job-related events on the What's New section of our website, Facebook and Facebook accounts.
For information and access to employment services including Job Placement or Transition to Employment please call 780-539-5477 or email info@gpworkplace.ca
The Work Place is committed to caring for the health and safety of our clients, staff and the community while maintaining our dedication to provide quality employment services.
Our website is www.gpworkplace.ca