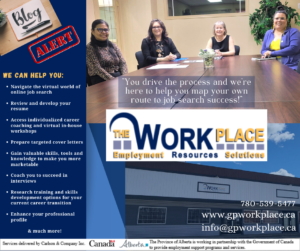 Let's face it, looking for a new position can be tough, especially if you're unemployed.
Finding work in itself may feel like having a full-time job. And for anyone who's been out of work for a while, there's likely to be frustration, stress and a lack of confidence.
Thankfully, many communities have professional employment services to improve the chances of people finding new jobs much faster than trying to do it on their own.
If you're a job seeker in Grande Prairie and area, Transition to Employment Services delivered by The Work Place is your one-stop shop to gain a competitive edge in the job market.
We're contracted by Alberta Labour and Immigration to provide customized employment supports at no cost to help individuals find their next opportunity.
It all begins when you contact us!
We'll quickly review your pre-eligibility requirements. If you meet these, you'll be asked to complete a registration and attend an orientation session.
An employment consultant will speak with you determine how we can best provide support. This discussion will help us plan next steps together to get your job search underway.
In-person meetings are by appointment only.
We can help you:
Navigate the virtual world of online job search
Review and develop your resume
Access individualized career coaching and virtual in-house workshops
Prepare targeted cover letters
Gain valuable skills, tools and knowledge to make you more marketable
Coach you to succeed in interviews
Learn about other community resources and networking opportunities
Research training and skills development options for your job or career transition
Enhance your online professional profile
For more information on Transition to Employment Service, contact Catherine Dyer, Employment Consultant/Team Lead, at 780-539-5477, ext. 104, or catherine.dyer@gpworkplace.ca
You can also visit: https://www.gpworkplace.ca/job-seekers/
"Consider us to be your partner in success," says Catherine. "The world of job search is constantly changing and we provide clients with the tools they need to meet their employment and career goals.
"With fierce competition for many positions, it's more important than ever for job seekers to be strategic as they pursue their applications. This includes ensuring their employment documents are top notch, that they've addressed any skill gaps, and that they're ready to step outside their comfort zone to take chances."
Staff at The Work Place can help individuals identify and speak about their strengths and how to address any weaknesses, if needed, in an interview. Often having someone to provide a different perspective is a key step.
"We take a very client-focused approach says Catherine. "We work closely with you in your job search journey. "You drive the process and we're here to help you map your own route to success."
Meet our team here: https://www.gpworkplace.ca/about/our-team/
Watch for upcoming blogs on client success stories and how The Work Place helps employers find and provide training for new staff.