All I Want For Christmas Is …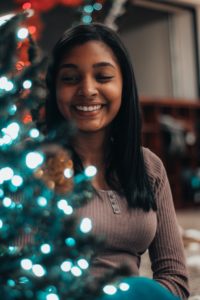 Is finding new employment atop your list for Santa this year? If so, you're probably wondering if you should continue your job search over the holidays.
The answer is yes! In this blog, we provide resources to help you continue your activity.
While taking a break and family time are more important than ever in 2020 and COVID-19 restrictions rule out traditional in-person networking, you shouldn't lose momentum in your efforts to land a new position.
Companies never stop hiring, especially if they are looking to fill a position before the end of a budget. You may be able to get a leg up on competitors who have gone into full holiday mode. Some may actually think there's no point in looking for a job during the festive season because of the pandemic.
While there's no doubt hiring slows down after seasonal positions are filled, there are several meaningful ways to keep active in your job search and many good reason to do so. These include anything from updating your resume to reaching out to contacts on LinkedIn or touching base with former colleagues via email and letting them your career plans.
It's also a great time to reflect on what's been working for you in terms of getting responses and what new tactics you might try.
We reference the work of Kamara Toffolo routinely. She's an Ottawa-based job search strategist, resume writer and LinkedIn consultant who regularly shares timely videos on LinkedIn and Twitter.
Check out this video from earlier this month for some timely advice on job search tips for this holiday season: https://bit.ly/3mqRzfb
At The Work Place in Grande Prairie, we can assist you with questions about your job search now or at any time of year. While our physical office is closed, we continue to operate virtually to assist job seekers with a variety of services at no charge.
One-to-one employment counselling services and workshops are available via phone, email or video-based technologies such as Zoom.
Staff can help unemployed and underemployed individuals assess how they can address career decision making, including new skills and training they may want to consider.
Enquiries can be made by calling 780-539-5477. One of our Employment Coaches will be happy to provide you information on our services. You can also email us at info@gpworkplace.ca. Our website is www.gpworkplace.ca
Note: Our office is closed for the holidays starting December 24 and re-opening January 4.
Here are some other resources to help you in your holiday job search:
This link references physical gatherings which are not possible in Alberta, but offers other useful advice: https://careersherpa.net/pandemic-holiday-job-search-4-things-you-can-do/
This article has some good discussion on how to capitalize even more on LinkedIn at this time: https://www.vpi-inc.com/2020/11/30/3-holiday-job-search-tips/
You'll find some great ideas in this link on activities you can pursue that will help you be better prepared for your job search in 2021: https://www.themuse.com/advice/5-productive-painfree-ways-to-job-search-during-the-holidays-without-turning-into-the-grinch
Here are more holiday job hunting tips, including volunteering as a way of skill building: https://ca.topresume.com/career-advice/how-to-search-for-a-new-job-during-the-holidays
https://ca.topresume.com/career-advice/how-to-search-for-a-new-job-during-the-holidays
As you can see, there is a little or a lot you can be doing to keep your job search going during the holidays, depending on your employment needs. If you're more about testing the waters in the months ahead, this can be a time of preparation, research and updating your job search documents. If you're looking to find a job soon, then there are steps that you can take to improve your chances right away.
We extend best wishes for your job search and look forward to providing services that help you find that next great job.