Are Cover Letters Necessary?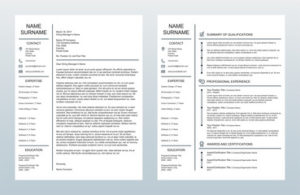 In today's world of recruiting companies and Applicant Tracking Systems, are cover letters still required?
Some surveys suggest only about 50 per cent of hiring personnel read cover letters.  The resume truly is the document everyone is interested in and some managers say that's where they get all their information. Others, however, say they won't even look at a resume without a cover letter.
It's best to continue including a cover letter as part of your job search tools, unless a specific company tells you it won't be needed.
If you're unemployed or underemployed, staff at The Work Place in Grande Prairie can help eligible individuals fine tune resumes and cover letters – visit www.gpworkplace.ca for details. Our staff ensure clients are using all the tools available to them, including accessing potential training opportunities (see contact details below). Updating or acquiring new skills may be part of your job search plan.
While it's recommended you continue to prepare cover letters, it's also important that you make yours stand out – just as you would a resume – focus on relevant information and use it as an opportunity to profile accomplishments and strengths.
Make sure your cover letter contains key words from the job description you're applying to and you have a consistent header to your resume. Keep it short and engaging so that the reader can't wait to check out your resume.
As well, if you're applying through an online job platform, such as Indeed, remember that you still have the opportunity to include a cover letter, e.g. in the "message to the employer" section.
Here's an article with some tips on how to modernize your cover letter: http://careerimpressions.ca/blog/2018/09/do-employers-read-cover-letters/#sthash.STFSpwig.bnYnSDCz.dpbs
This video is another great resource:
If you want more help with your job search at no cost, contact us at 780-539-5477. You can send enquiries to info@gpworkplace.ca. Our office is located at #105, 9840-97th Ave., Grande Prairie.
We also help employers find qualified candidates.