Be Mindful of Body Language In Interview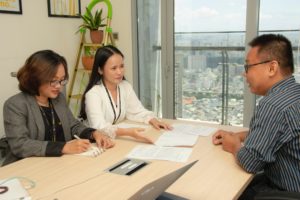 Your resume and cover letter landed you an interview with an employer at the top of your wish list. You're freshly groomed and have new attire. You've been practising for tough questions and have some enquiries ready for the interview panel.
Have you also taken time to work on your body language?
It's essential you consider this well before your meeting with your prospective new colleagues. As the old saying goes, you don't get a second chance to make a first impression.
You don't want to give off the wrong vibe by crossing your arms, slouching or fidgeting. Interviewers also take note of eye contact, tone, posture, and not just what you answer, but how – are you listening carefully before responding?
In today's job market, you may be interviewed in person, by video or via phone. This blog provides tips on how to be mindful of your body language during traditional face-to-face meetings with employers and online interviews.
While your phone interviewers can't see you, there are definitely some steps to take to make sure you're successful with these situations, too.
Our first resource features eight body language tips for your next interview: https://bit.ly/3yyQcBV.
The article covers why this is an important aspect of your interview preparation, whether in person or online.
We have more discussion on this topic below. First, though, here's some information on how we can help you get ready for your next interview, regardless of circumstance.
At The Work Place, unemployed and underemployed Grande Prairie and area residents can access a variety of job search consultation services, including resume and cover letter preparation, at no cost.
Job Search Resources
While our physical office is closed, we continue to operate virtually to assist job seekers with a variety of services.
One-to-one employment counselling services and workshops are available via phone, email or video-based technologies such as Zoom.
Staff can help unemployed and underemployed individuals assess how they can address career decision making, including new skills and training they may want to consider.
Enquiries can be made by calling 780-539-5477, Ext. 104. Our Employment Coach, Catherine Dyer, will be happy to provide you information on our services. You can also email us at info@gpworkplace.ca. Our website is www.gpworkplace.ca
More on Body Language
https://www.michaelpage.ca/advice/career-advice/job-interview-tips/importance-body-language-during-interview
https://www.flexjobs.com/blog/post/6-body-language-tricks-can-help-nail-job-interview-v2/
https://www.best-job-interview.com/interview-body-language.html
Video Interviews
These links will help you address remote interviews, including some additional discussion on body language:
https://www.libertystaffing.ca/blog/7-tips-for-managing-your-body-language-during-a-virtual-interview
https://ca.indeed.com/career-advice/interviewing/video-interview-guide
https://www.uwindsor.ca/career-development-experiential/2020-04-30/video-job-interviews-new-era-interviewing-during-covid-19
https://www.mcgill.ca/arts-internships/files/arts-internships/summer_2020_workshop_series_1_-_how_to_ace_a_video_interview.pdf
 Phone Interviews
Phone interviews are generally to determine the suitability of candidates for the next step of the recruitment process. Here's some advice on how to succeed in these scenarios.
https://ca.indeed.com/career-advice/interviewing/phone-interview-questions
https://www.thebalancecareers.com/how-to-ace-a-phone-interview-2058579
https://www.themuse.com/advice/phone-interview-tips-preparation
https://www.randstad.ca/job-seeker/career-resources/job-interviews/tips-for-telephone-interviews/
https://www.monster.ca/career-advice/article/mastering-the-phone-interview-canada
 Here To Serve You
If you're in the job market, we wish you the best and look forward to helping you land that next great job, including helping you prepare for any type of interview.