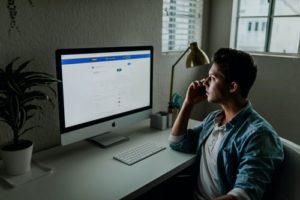 There's an old saying that if something seems to be too good to be true, it probably is.
This statement certainly applies to the job market. Yes, scammers are everywhere, not just preying on the elderly for the hard-earned life savings.
Employment seekers need to be careful to avoid falling victim to schemes that compromise their personal information and/or their bank account.
There are numerous red flags, including unsolicited job offers, requests to send credit card information to pay for training/training materials or direction to cash a cheque to complete the application process, then be asked to send the money to a third party or wire any excess funds back to the "employer".
The jobs offered are typically work-from-home or mystery shopper positions. The target will often get the job without needing to send in an application, have an interview or even discuss the role with their supposed employer.
The scams can appear on job boards, social networking sites like Facebook and twitter or even business platforms like LinkedIn. Individuals who post their resumes on employment-related sites are also prone to these schemes.
Be wary of extremely high pay offers, job descriptions that are overly vague or non-existent, and highly flexible working hours.
In this blog, we provide further resources to help you identify suspicious employment offers and what to do if you find you've been duped into a fake job.
You'll see that these scams are on the rise since the onset of the pandemic.
The most important thing is to do your research on the employer before divulging any personal or financial information. Scammers take elaborate steps, even creating fake websites or cloning real ones, and developing fraudulent application and tax forms.
If you feel you've been scammed, take immediate action such as stopping payments if you've sent money, and contact authorities such as the police and the Canadian anti-Fraud Centre. Reporting scams helps authorities find those responsible and warn other potential victims.
Check out these links for more information on specific scams:
https://cba.ca/online-employment-scams-how-to-recognize-the-red-flags
https://www.edmontonpolice.ca/CrimePrevention/PersonalFamilySafety/Frauds/OnlineScams/EmploymentScams
https://pwp.vpl.ca/siic/job-search-resources/avoiding-employment-scams/
https://www.cbc.ca/news/canada/british-columbia/fake-job-scams-on-rise-during-pandemic-1.6169860
https://carleton.ca/career/is-this-job-a-scam-is-it-too-good-to-be-true/
https://www.ucalgary.ca/student-services/careers/students/browse-online-resources/job-scams
https://us.norton.com/internetsecurity-online-scams-avoid-job-scams.html
https://www.vistaprojects.com/blog/identify-fake-job-offers/
https://www.indeed.com/career-advice/finding-a-job/how-to-know-if-a-job-is-a-scam
https://www.careeraddict.com/recognize-a-fake-job-offer-letter
How We Can Help
At The Work Place, unemployed Grande Prairie and area residents can access a variety of job search consultation services, including resume and cover letter preparation, at no cost. We can also help you with the recruitment process, including questions about responding to job ads.
Job Search Resources
While our physical office is closed, we continue to operate virtually to assist job seekers with a variety of services.
One-to-one employment counselling services and workshops are available via phone, email or video-based technologies such as Zoom.
Staff can help unemployed individuals assess how they can address career decision making, including new skills and training they may want to consider.
Enquiries can be made by calling 780-539-5477, Ext. 3 Our Employment Coach, Catherine Dyer, will be happy to provide you information on our services. You can also email us at info@gpworkplace.ca. Our website is www.gpworkplace.ca
Here To Serve You
 If you're seeking employment, we wish you the best and look forward to helping you land that next great position, including assisting with enquiries about suspicious employment opportunities.