Changing Your Resume During COVID-19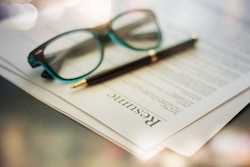 The global pandemic is thrusting everything in society into chaos, including the workplace.
Many people have been laid off. Others are concerned their jobs are in jeopardy. Some had been seeking a job change prior to the outbreak of COVID-19 either through job loss or to advance their careers.
While there have been job losses related to COVID-19, hiring continues in other areas, particularly in industries that have ramped up to meet the needs of the marketplace.
In either scenario, your resume needs to reflect your situation and how you can adapt. Perhaps you have a background that fits perfectly with an employer in the recruitment mode.
Staff at The Work Place continue to offer service via a revised delivery model. The Province of Alberta has directed us not to meet clients in-person during the pandemic.
However, we can guide eligible unemployed or underemployed clients (visit www.gpworkplace.ca for details) on how to update their resume and cover letters. We can be reached at 780-539-5477 or info@gpworkplace.ca
Meetings can be arranged via technologies such as Zoom and Skype.
Our staff can also assist you with your other job search tools and ensure you're using all the resources available to you, including accessing potential training opportunities. Your strategies may include updating or acquiring new skills online via webinars.
Kamara Toffolo is an Ottawa-based resume writer, LinkedIn consultant, job search strategist and speaker. In this video, she provides guidance on how to adjust your resume if you've been laid off because of COVID-19: https://bit.ly/2WHvOii
Kamara creates videos directed at job seekers and shares them regularly on LinkedIn. Consider following her or subscribing to her videos.
Adrienne Tom, an award-winning resume writer, interview coach and job search strategist in Calgary, started a discussion on LinkedIn this week about the importance of having your resume ready in this volatile job market.
"If you are feeling uncertain about your current employment status, *now* is the time to get your resume ready.
Here are some of my top tips to help:
Ensure your resume meets modern standards. A format that worked for you a few years ago could need an update in both content and design.
Review your last year of work and take an inventory of new skill sets or accomplishments. If you feel you don't have anything stellar to share – think again. Everyone is a producer, even on a small scale.
Create a 'starter' file — a resume that you can build off of and tailor for unique applications. It is important to customize the resume for each audience (employer).
Focus heavily on sharing results in the file, not job tasks. You need to provide the employer with proof of your abilities and these lie within your results.
Only list related and relevant content. Ask: does this point add value to THIS application? If not, remove or replace."
Adrienne added some links on resume writing from her website:
https://careerimpressions.ca/executive-resume-trends-for-2020-part-1
https://careerimpressions.ca/does-your-resume-have-a-red-flag/
https://careerimpressions.ca/how-to-add-achievements-into-your-resume
Several other job search experts added comments on Adrienne's post.
Erin Kennedy, Founder & CEO, Professional Resume Services, Inc. in Detroit, contributed this advice:  "Add a "rave" or testimonial from someone you worked with or a supervisor. These are proof of your expertise and they also add interest to the resume, kind of like a real-time reference."
Shelley Piedmont, SPHR, SHRM-SCP, Career Coach, Resume Writer, Interviewing Expert, LinkedIn Profile Builder, in Charleston, South Carolina commented: "If you are stuck on what to highlight think about your workplace and what do you do that is different from others. Do you do things more efficiently? Are you more innovative? A great problem-solver? Emphasize these strengths in your resume. What were your accomplishments that used those skills? Put that on your resume."
Adrienne responded: "All good prompts and questions to ponder, Shelley, thank you! Some of the questions that I ask my clients when they are struggling to identify top resume content are: What are you most proud of? What distinguishes you from other similar candidates? What have you been regularly or recently complimented for by colleagues/peers?"
Adrienne added she likes the CAR  – Challenge, Action, Result – approach to making resume statements.
Virginia Franco, Executive Storyteller, Resume and LinkedIn Writer in Charlotte, North Carolina, added: "Be sure to include a headline at the top that is customizable — so the reader immediately has a sense for what role you are targeting."
Meg Applegate, Certified Resume Writer, Job Search Coach, Personal Branding Strategist, in Indianapolis, Indiana, commented: "Give a brief snapshot of your unique value proposition in the top third of your resume. If the reader reads no further, they should have a good idea of who you are and the value you bring."
Ultimately, it's more important than ever that your resume helps you stand out from other candidates.
And, remember, unless you're advised not to, add a cover letter, even a brief one. This tells employers that you're willing to invest extra time and effort to tell your story. And some managers won't look at applications that don't have them.
Best wishes in your job search.