Consider Non-Verbal Communication In Video Interviews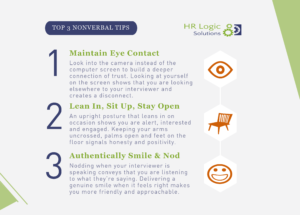 In today's job market, moving to new communities is a real possibility as part of a career advancement. Some form of technology-based interview by video conference/Skype/Zoom are increasingly being used for out-of-town candidates, particularly in the initial stages of the recruitment process.
That means it's important to consider how these types of interviews might vary from in-person meetings.
Emily Lawson, certified career coach and job search strategist in Greensboro, North Carolina, posted the following discussion on LinkedIn earlier this month:
"Do you believe that 93% of communication is nonverbal?
If this is true, think of how this translates into video interviews. With this form of interviewing only increasing over time it's crucial to understand the keys to video interviewing success.
Is it possible that your body language is more important that what you actually say? According to Mehrabian's 7-38-55 Rule of Communication, 93% of what we are "saying" is actually nonverbal.
He breaks it down to:
🔸 7% – Actual Words That You Say
🔸 38% – Voice Tone and Inflection
🔸 55% – Body Movements, Posture, etc."
Here Are Emily's Thoughts:
✓ Most people don't realize that if you are interviewing with a prospective employer they have already vetted out that you are qualified for the role.
✓ The interview is about determining fit and the majority of that is communicated nonverbally.
✓ People easily hire those they are connected with, trust, and respect; which can only be developed through communication.
The key here is to be mindful of your nonverbal communication so it doesn't detract from your value. Ralph Waldo Emerson summed it up perfectly… "What you do speaks so loudly I cannot hear what you say."
Emily invited others to chime in with their advice on video interviews:
Adrienne Tom, Executive Resume Writer at Career Impressions in Calgary, responded: "Often people tend to get 'stuck inside their head' during the process…trying to anticipate questions or formulate responses and this can make them seem disengaged or removed. Approach the process as a conversation and aim to make a connection with the interviewers."
Kamara Toffolo, an Ottawa-based resume writer, LinkedIn consultant, job search strategist and speaker added: "Job seekers need to remain ever-present during interviews, and actually answer the questions they're asked."
Maureen McCann, Executive Career Strategist in Victoria, had this to say: "Relax and be yourself. As you said in your post, the hiring team has already vetted you. You're in! What they want now is to get to know you. Don't try to be overly formal or perfect. Be yourself. Let them see who you'll be once you're on their team."
Chapel Hill, North Carolina-based job search expert Sarah Johnston commented: "Consider taking off your glasses.  The camera doesn't always favor people who need lenses (there is often a light issue)."
Here's what Erin Kennedy, Founder & CEO, Professional Resume Services, Inc. in Detroit offered: "Try not to let your face show your emotion. If you left a company on bad terms, practice in front of a mirror what you would say about that and keep your face neutral (it's harder than it sounds!)."
"Don't tap with a pen or fiddle with your fingers, hair/beard or jewelry," advised Ashley Watkins, Certified Resume Writer, Job Search & Interview Coach in Birmingham Alabama.
Staff at The Work Place in Grande Prairie can guide eligible unemployed or underemployed clients (visit www.gpworkplace.ca for details) on how to shine in all interview situations.
They can also assist you with your other job search tools and ensure you're using all the resources available to you, including accessing potential training opportunities (see contact details below). Your strategies may include updating or acquiring new skills.
Here are some other resources to consider:
https://fuzehr.com/video-interview-tips-preparations-to-nail-it/
https://careers.workopolis.com/advice/worst-video-interview-blunders/
https://www.roberthalf.ca/en/blog/job-interview-tips/how-to-nail-your-next-video-job-interview
https://www.iqpartners.com/blog/10-tips-crush-next-video-job-interview/
Ultimately, a video interview is an interview. Treat it as if you were face-to-face with the interviewer(s). Be prepared, act professionally, answer all the questions thoroughly, and dress appropriately. Remember to ask questions when the opportunity presents itself.
If you want more help with your job search at no cost, contact us at 780-539-5477. You can send enquiries to info@gpworkplace.ca. Our office is located at #105, 9840-97th Ave., Grande Prairie.
 We also help employers find qualified candidates.