Don't Put A Ho-ho-hold On Job Search During Holidays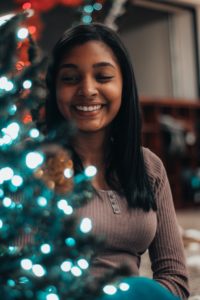 The stockings are all hung by the chimney with care. Decorations fill your house with light and glitter. The presents are all neatly wrapped under the tree. Are you giving yourself the gift of a potential job opportunity in the New Year?
While the festive season is an important time to take a break from the daily grind and visit with family and friends, your job search doesn't need to go on a complete hiatus.
There is no doubt that recruitment slows down late in the year after the rush to fill temporary seasonal retail positions is complete. However, companies never stop the hiring process. You may be able to get a leg up on competitors who let their job search go into full vacation mode for a few weeks.
Consider even smaller steps such as tuning up your resume or taking some time during holiday parties to update your colleagues on your career interests.
Speaking of networking, is your LinkedIn profile up to date?
It's a good time to examine what's worked well in your job search and review your goals for the year ahead.
As this article points out, it's vital to recognize the recruitment cycles throughout the year: https://www.monster.ca/career-advice/article/understand-recruitment-cycles-ca
The importance of maintaining your job search even during the holidays is discussed in this post: https://www.vpi-inc.com/2019/11/18/keep-your-job-search-going-this-holiday-season/
In this article, you'll learn more about how the festive season is great time to look ahead and focus on your career: https://www.linkedin.com/pulse/holiday-season-time-focus-your-career-maureen/
You can sign up for a free Holiday Guide to Job Search here: https://www.jobsearchsecretweapon.com/
Staff at The Work Place in Grande Prairie can guide eligible unemployed or underemployed clients (visit www.gpworkplace.ca for details) on how to update their resume and cover letters.
They can also assist you with your other job search tools and ensure you're using all the resources available to you, including accessing potential training opportunities (see contact details below). Your strategies may include updating or acquiring new skills.
Our office is closed between Dec.24 at noon and Jan. 2, 2020.
Kamara Toffolo, an Ottawa-based resume writer, LinkedIn consultant, job search strategist and speaker, produced this video for the 2018 holiday season and the points remain valid: https://bit.ly/2L2rVhe
Kamara creates videos directed at job seekers and shares them every Tuesday on LinkedIn. Consider following her or subscribing to her videos.
You own your career and your job search. It's important to renew acquaintances as we head into a new year. If you're serious about a job change in the coming months, though, we recommend you take some down time to get a head start in some way.
If you want more help with your job search at no cost, contact us at 780-539-5477. You can send enquiries to info@gpworkplace.ca. Our office is located at #105, 9840-97th Ave., Grande Prairie.
 We also help employers find qualified candidates.