Feel Like Quitting Your Job? Be Careful!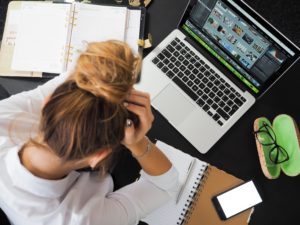 "Take this job and shove it
I ain't working here no more …"
Raise your hands – who hasn't felt like Johnny Paycheck in his 1970s song and wanted to quit your job outright?
There's an old saying that it's easier to find a job when you have one. That's because it can be challenging to explain a gap on your resume – especially lengthy ones. Most people also don't want to discuss the situation that made them unilaterally decide to leave their employment.
Depending on the job market, your education, training, skillset, level of willingness to relocate and age – yes ageism does exist – it may also be difficult to find meaningful employment in short order.
Most people don't have the financial resources to withstand a lengthy period without a regular paycheque and unless you can prove just cause, you're unlikely to receive Employment Insurance (see related link below).
Of course, there are all kinds of reasons for wanting to throw in the towel immediately. Your supervisor may be a horrible leader, the workplace culture could be toxic, you are facing harassment or bullying, the job may not be what you originally were told it would be, you are overworked/underutilized or you are being passed over for advancement by others.
Not every place of employment is joyful. There are some poisonous work environments out there and everyone has stories of uncooperative co-workers. We have all felt what seemed like insurmountable stress. There are many reasons for frustration beyond our control.
There are absolutely cases where there may be no option but for you to leave. It is possible you've exhausted, without success, every avenue to addressing mental health issues, harassment, bullying or other ways you feel you're in an unsafe environment or untenable situation.
The links below provide guidance on steps you can take to address unsatisfactory and poor working conditions and how to seek help.
Staff at The Work Place in Grande Prairie can guide eligible unemployed or underemployed clients (visit www.gpworkplace.ca for details) on how to work your way through a poor work situation without quitting.
They can also assist you with your other job search tools and ensure you're using all the resources available to you, including accessing potential training opportunities (see contact details below). Your strategies may include updating or acquiring new skills.
http://careerimpressions.ca/blog/2019/04/senior-professionals-dont-quit-your-job-too-soon/#sthash.fVrYtbrG.l0TJaAwG.dpbs
https://www.forbes.com/sites/carolinecenizalevine/2018/08/18/when-is-it-okay-to-quit-your-job-without-another-job-lined-up-a-ten-question-checklist/#6dd187924e90
https://www.themuse.com/advice/4-reasons-quitting-your-job-too-soon-hurts-your-career
This link addresses the circumstances where you may be eligible for Employment Insurance if you leave your job outright: https://stepstojustice.ca/questions/employment-and-work/can-i-get-ei-if-i-quit-my-job
Ultimately, any job should be considered part of a long-term career plan. You don't want to be jumping from job to job. It's not always greener on the other side of the fence. Sometimes, speaking to your employer can resolve issues, particularly if there are concerns they are not aware of.
If you want more help with your job search at no cost, contact us at 780-539-5477. You can send enquiries to info@gpworkplace.ca. Our office is located at #105, 9840-97th Ave., Grande Prairie.
We also help employers find qualified candidates.