Finding Success With Job Boards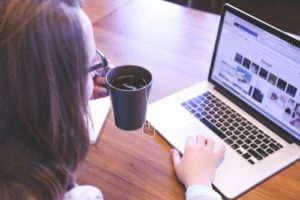 It wasn't so long ago that when looking for a job, you couldn't find the employment section of the newspaper because someone else had grabbed it. These days, there are many more ways to find new work opportunities, including online job boards – websites used by employers to advertise vacancies.
In this blog, we'll share resources on how to capitalize on their benefits and provide tips on pitfalls to avoid.
Employment counsellors routinely see people expressing frustration that they're not getting results from online job boards. There are pros and cons to their use which we'll discuss later in this post.
A lack of success could be due to several factors. Are candidates uploading an up-to-date resume with their profile? Did the resume contain key words for the jobs they're most interested in? Did they filter effectively for criteria such as location? Did they hone in on job boards related to their career? Did they set up job alerts?
Using job boards, like any aspect of your quest for new employment, is not a set it and forget it type of undertaking. And, we can't emphasize enough, that these websites are just one tool in your job search arsenal. Remember, many jobs go unadvertised and are filled through other means such as referrals – the so-called hidden job market.
Networking in person and online, using job-related social media tools such as Linkedin, seeking informational interviews, and adding value to your skillset by taking additional training and volunteering are other ways to boost your chances of landing a new position.
We've got a wealth of resources regarding job boards for your consideration, but first, some details on how The Work Place can be your partner in a successful job search.
How We Can Help
At The Work Place, unemployed Grande Prairie and area residents can access a variety of job search consultation services, including resume and cover letter preparation, at no cost. We can also help you with the recruitment process, including use of job boards and search engines.
Job Search Resources
While our physical office is closed, we continue to operate virtually to assist job seekers with a variety of services.
One-to-one employment counselling services and workshops are available via phone, email or video-based technologies such as Zoom.
Staff can help unemployed individuals assess how they can address career decision making, including new skills and training they may want to consider.
Enquiries can be made by calling 780-539-5477, Ext. 3 Our Employment Coach, Catherine Dyer, will be happy to provide you information on our services. You can also email us at info@gpworkplace.ca. Our website is www.gpworkplace.ca
How Job Boards Work
https://www.indeed.com/hire/c/info/job-boards
https://www.indeed.com/career-advice/finding-a-job/what-is-job-board
 Pros and Cons of Job Boards
 As mentioned earlier, there are several pluses with using job boards. There are also downsides, most of which are due to overreliance on these websites.
Cons include candidates saying that many listings are outdated and job boards fail to produce leads.
There can also be a tremendous amount of information to navigate. On the other hand, online job boards provide insight into the many kinds of jobs that are available and offer extensive job-search information, like resume, interviewing, and salary tips and advice.
By using job boards, you can discover the latest opportunities that match your needs. There's the opportunity to be head hunted. You can research your ideal job and make the most of job alerts.
Here's more discussion on pros and cons of job boards.
https://jobs.washingtonpost.com/article/pros-and-cons-of-using-a-job-board-to-apply-for-a-job/
https://stephaniecavanaugh.com/job-search-career-advice/job-boards-101-the-top-advantages-and-disadvantages-of-using-this-least-effective-job-search-tool
https://www.resumehelp.com/resources/articles/tools/10-benefits-of-job-boards
https://www.cv-library.co.uk/career-advice/start/5-reasons-job-boards-major-advantage-job-search/
https://www.workitdaily.com/job-boards-are-ineffective/recruiters-may-never-see-your-cover-letter-and-resume
https://www.linkedin.com/pulse/job-boards-dead-top-reasons-effective-bill-mccabe
How to Make Best Use of Job-Boards
https://blog.execu-search.com/how-to-effectively-use-job-boards-in-your-job-search/
https://www.cnbc.com/2017/07/10/6-ways-to-use-job-boards-to-land-a-gig-and-one-stupid-mistake-to-avoid.html
https://www.myperfectresume.com/career-center/special-reports/coronavirus/how-to-get-noticed-on-job-boards
https://www.topresume.com/career-advice/does-anyone-really-get-hired-from-job-boards
https://www.themuse.com/advice/5-helpful-job-board-tricks-so-you-can-stop-aimlessly-browsing-and-start-finding-jobs
https://www.allaboutcareers.com/looking-for-a-job/using-job-boards/
Job Websites and Search Engines To Consider
https://core-exec.com/canadas-10-best-job-search-websites-2020/
https://www.jobboardfinder.com/news/top-10-job-boards-in-canada/
Job Search Sites – alis (alberta.ca)
Ask the Employment Specialist: Where do I look for jobs online? (jvstoronto.org)
Alternatives to Job Boards
https://ca.topresume.com/career-advice/7-top-job-search-statistics
https://www.workitdaily.com/alternatives-job-boards
https://eco.ca/blog/job-search-tip-from-a-recruiter/
https://alis.alberta.ca/look-for-work/find-work/how-to-contact-employers-to-find-unadvertised-jobs/
Here To Serve You
 If you're seeking employment in 2022, we wish you the best and look forward to helping you land that next great position.