Handling Awkward Interview Questions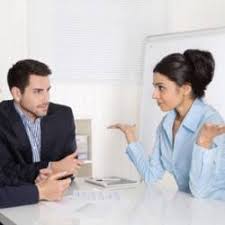 Hands up, who hasn't been asked in a job interview where you plan to be in five years? How about, what is your greatest weakness? We all have!
Being well prepared for meetings with potential employers is important. You're also well advised to be ready for enquiries that have little to do with what kind of fit you may be or that are directly related to your possible new job. Some may border on being irrelevant, inappropriate or even outright illegal.
As a job candidate, you want your interview to go smoothly and answer all the questions as accurately as possible. In this blog, we share some examples of interview questions which can trip you up and how to handle them.
Some interview questions can appear to be quite innocent and may be well intentioned, though are overused. For example, the enquiry about where you plan to be in five years could be meant to determine if you're a goal setter. It can also be used to evaluate if you plan to stay in the company long term or even be directed towards family planning – the latter being a no-no.
At The Work Place in Grande Prairie, we can assist you with interview preparation. While our physical office is closed, we continue to operate virtually to assist job seekers with a variety of services at no charge.
One-to-one employment counselling services and workshops are available via phone, email or video-based technologies such as Zoom.
Staff can help unemployed and underemployed individuals assess how they can address career decision making, including new skills and training they may want to consider.
Enquiries can be made by calling 780-539-5477. One of our Employment Coaches will be happy to provide you information on our services. You can also email us at info@gpworkplace.ca. Our website is www.gpworkplace.ca
Here are some examples of tricky interview questions and how you can respond:
https://www.prdaily.com/the-worst-most-nefarious-interview-questions-and-how-to-answer-them/?utm_source=RDH&utm_medium=email&utm_campaign=RDH+(2020-09-30)&utm_content=article+title&utm_term=3&oly_enc_id=6133H1706801F1A
https://blog.stafflink.ca/recruiting-tips/how-to-answer-the-most-awkward-interview-questions
https://www.randstad.ca/job-seeker/career-resources/job-interviews/how-to-ace-17-challenging-interview-questions/
http://www.sfu.ca/olc/stories/topic/dirty-dozen-interview-questions-part-i
https://www.best-job-interview.com/job-interview-answers.html
You may have encountered outright illegal interview questions. Here are some examples: https://www.monster.ca/career-advice/article/how-to-respond-illegal-interview-questions
This article is directed at career counselling professionals to advise their clients on how to deal with illegal and inappropriate questions: https://careerprocanada.ca/handling-inappropriate-interview-questions/
We reference the work of Kamara Toffolo routinely. She's an Ottawa-based job search strategist, resume writer and LinkedIn consultant who regularly shares topical videos on LinkedIn and Twitter.
She presented a webinar on Oct. 17 with career coach, speaker and trainer Diana YK Chan on preparing for interviews. Check it out here: https://bit.ly/3oqi2fd
If you're currently seeking employment or advancement in your career, we extend our best wishes for success and look forward to helping you find that next great job.