Have 2020 Foresight In This Year's Job Search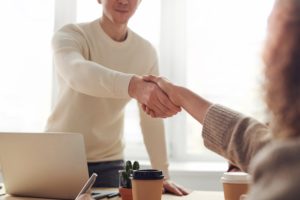 The Christmas tree and decorations have been put away. You're working to reduce those extra pounds and bills that built up over the holiday season. How's that New Year's Resolution to make a career advancement in 2020 coming along?
Early in the year is a great time to get your job search back on track. Many companies operate on annual budgets so hiring often happens in January and February.
It's also a great time to pull out the calendar and look at what networking opportunities are coming up. Are there any job fairs or Chamber of Commerce mixers to attend? Speaking of networking, is your LinkedIn profile up to date? Do you have a current resume? Have you spoken to your references lately?
Now that the reality of a new year has set in, it's also important to review your goals for the year and beyond. Has anything changed since you last examined your career path? Are there training opportunities to consider? Have there been changes in your workplace that have created new possibilities for advancement?
This video discusses the importance of a fast start early in the year if you've got a career advancement in mind for 2020: https://bit.ly/2ObLo0s
This link provides tactics to assist your 2020 job search: https://prepcan.ca/6-tips-to-kick-start-your-job-search-in-2020/
Here are some websites that will help your research: https://careersherpa.net/best-websites-for-2020-job-search/
This link offers some great resume tips for 2020: https://careerimpressions.ca/20-resume-tips-for-2020/
Here is some generic career advancement advice, keeping in mind some of it has an American context: https://thevoiceofjobseekers.com/20-job-search-tips-to-navigate-2020-to-get-more-money/
Staff at The Work Place in Grande Prairie can guide eligible unemployed or underemployed clients (visit www.gpworkplace.ca for details) on how to launch a successful job search.
They can also assist you with your other job search tools and ensure you're using all the resources available to you, including accessing potential training opportunities (see contact details below). Your strategies may include updating or acquiring new skills.
Ultimately, a job search requires commitment and consistency. It's a job in itself. It's important to develop a schedule and to be accountable to yourself. If what you've done in the past to find new employment hasn't worked for you, examine new tactics to add to your toolkit.
If you're ready to make a move in 2020, you can do this!
If you want more help with your job search at no cost, contact us at 780-539-5477. You can send enquiries to info@gpworkplace.ca. Our office is located at #105, 9840-97th Ave., Grande Prairie.
 We also help employers find qualified candidates.