Importance of Safeguarding and Saving Personal Employment Documents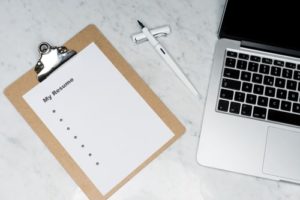 It's more important than ever to have an up-to-date resume and cover letter and to be able to readily access these job search documents.
In this blog, we'll provide some tips on ensuring your documents are stored safely.
There are many ways to ensure this, ranging from having them located on multiple computers to having copies stored in your email. You can also share with a friend via email for safekeeping or consider a cloud-based solution such as Google docs/Google Drive, Dropbox and OneDrive.
The beauty of virtual storage is that, even without a computer, you can manage documents and retrieve them easily with your phone. These options also allow for collaboration so, if you're getting someone to assist you with updating them, it's easy to share back and forth.
At The Work Place in Grande Prairie, we assist unemployed and unemployed individuals with a variety of job search consultation services, including resume and cover letter preparation, at no charge.
We can assist you with questions about how best to store these documents for now and for the future.
PLEASE NOTE: If you're a previous client and we've assisted you with your resume and cover letter or you have other career-related items on file such as scans of safety tickets, our Transition to Employment Services contract with the Provincial Government requires us to remove these documents from our server. May 31, 2021 is the date that has been established for the electronic deletion of these files. Please contact Catherine at 780-539-5477, Ext. 105, or catherine.dyer@gpworkplace.ca, as soon as possible if you want to acquire copies.
Electronic File Storage
Google Docs/Google Drive
Google Drive is a free online data storage service provided by Google. The service syncs stored files, photos, and more across all the user's PCs, tablets, and mobile devices. It offers 15 GB of free space. All you need is a Google account.
 Features:
You can create/edit Docs, Sheets, Slides.
It provides real time synchronization.
Here are a couple of articles specifically related to using Google Docs to upload and share your documents.
https://www.thebalancecareers.com/google-docs-resumes-2062719
https://blog.simplyhired.com/career/resumes/guide-posting-resume-online-google-docs/
Are you an iPhone or iPad user?
ICloud is a cloud storage service managed by Apple Inc.
It is a service where users can save any files on the cloud, and iCloud will automatically sync to your device. You can use this service for Mac and Windows PCs.
Features:
Free cloud storage services that provides 5GB of iCloud storage
File size uploading limit is 15 GB.
Many people can work together by simply sending a link.
Other Storage Options
Articles related to storing your resume and other key documents on your phone:
https://thingscareerrelated.com/2019/08/03/store-your-resume-and-6-other-documents-on-your-phone/
https://www.meador.com/2018/07/26/store-resume-mobile-device-jobs-deer-park-tx/
For Android Users
If you're an Android user, this link provides insight on various file management apps: https://www.computerworld.com/article/3268115/best-android-file-manager-apps.html
Here's an article profiling various free cloud storage and sharing options: https://www.guru99.com/free-cloud-storage.html
Ongoing Service
While our physical office is closed, we continue to operate virtually to assist job seekers with a variety of services at no charge.
One-to-one employment counselling services and workshops are available via phone, email or video-based technologies such as Zoom.
Staff can help unemployed and underemployed individuals assess how they can address career decision making, including new skills and training they may want to consider.
Enquiries can be made by calling 780-539-5477. One of our Employment Coaches will be happy to provide you information on our services. You can also email us at info@gpworkplace.ca. Our website is www.gpworkplace.ca
Here To Serve You
If you're currently in the job market, we wish you the best and look forward to helping you land that next great job.