Is That Dream Job Calling?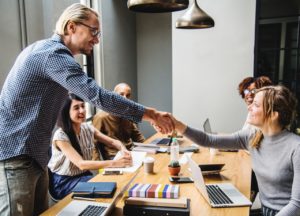 Have you ever decided against applying for an appealing job because you didn't meet all the qualifications?
If a position has your name written all over it – except for a bullet point or two in an employment ad – don't sell yourself short and potentially miss out on your dream job.
When hiring managers develop a job description, they are envisioning the absolute ideal person to carry out a set of duties. Not everything in the document will be a must have.
Employers recognize that everyone has a different skill set and educational background and not every recruitment process will produce 100 per cent of the qualifications desired.
Without knowing who else applied for the vacancy and their qualifications, you have no idea how you stack up. No doubt others also didn't apply thinking they didn't meet all the criteria.
Your job as a candidate is to promote what you can do and be able to back these capabilities up with solid examples – not to focus on where you come up short in relation to a list of job duties.
Once you build your credibility into your resume and cover letter and get an interview, factors like your attitude, flexibility, willingness to learn, team work and other where you excel will stand out.
All things being equal, employers want to be sure they are hiring someone who is the right fit for their team and culture.
Your profile may lack in a couple of areas that can be addressed in a training opportunity. On the other hand, you can wow the company with some ideas on how your experience can make a difference in their workplace.
Staff at The Work Place in Grande Prairie can guide eligible unemployed or underemployed clients (visit www.gpworkplace.ca for details) on how to emphasize strengths and capabilities when applying for jobs.
They can also assist you with your job search tools and ensure you're using all the resources available to you, including accessing potential training opportunities (see contact details below). Your strategies may include updating or acquiring new skills.
We have provided links below to four articles with further insight on how you should pursue opportunities, even if you don't have all the qualifications.
https://www.forbes.com/sites/forbescoachescouncil/2018/07/16/dont-give-up-on-your-dream-job-if-youre-missing-one-essential-skill/#401338f06928
https://www.themuse.com/advice/actually-you-should-apply-for-jobs-youre-not-100-qualified-for
https://www.thejobnetwork.com/dream-job-you-arent-qualified-012017/
https://www.careercast.com/career-news/what-do-when-you%E2%80%99re-one-qualification-away-your-dream-job
If you want more help with your job search at no cost, contact us at 780-539-5477. You can send enquiries to info@gpworkplace.ca. Our office is located at #105, 9840-97th Ave., Grande Prairie.
We also help employers find qualified candidates.