Job Fair Next Week – Are You Ready?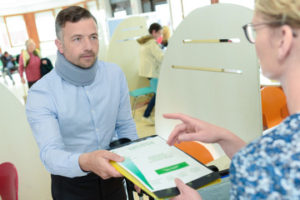 In our January 28 blog –  https://bit.ly/2GDgs74 – we discussed how to be successful at a job fair and the next one in Grande Prairie is on Tuesday, Feb. 26.
There were tips on how to dress, what to take, job fair etiquette, and how to set a strategy for approaching employers. In this blog, we feature two videos to provide some ideas on how to make the most of your time once you get to meet company personnel at their booth.
We've also provided a link to some general job fair advice.
The Grande Prairie Job Fair is on Feb. 26 from noon to 6 p.m. at the Holiday Inn (South of the GPRC), 9816-107 St. For more information, check out www.gpjobfair.com. The list of participating businesses is posted on the website in advance.
If you're unemployed or underemployed, staff at The Work Place in Grande Prairie can help eligible individuals (see www.gpworkplace.ca) to ensure they're prepared for this event, including assistance with resumes and cover letters.
Once again, preparation, including research on participating companies, will help you make the most of your time at a job fair.
https://globalnews.ca/video/2897828/how-to-stand-out-at-job-fairs
https://www.youtube.com/watch?v=LI_WmATfgFg
https://www.jobscanadafair.com/category-s/1147.htm
If you want more help with your job search at no cost, contact us at 780-539-5477. You can send enquiries to info@gpworkplace.ca. Our office is located at #105, 9840-97th Ave., Grande Prairie.
We also help employers find qualified candidates.