Job Hunting Resources During COVID-19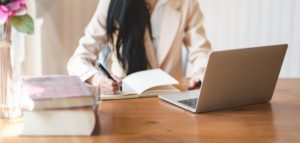 Seeking employment can be challenging at the best of times without throwing in a worldwide public health crisis.
What ramifications does a pandemic have on your job search? If you're unemployed, you still want to find a job. If you're seeking a career advancement, that desire won't change because of COVID-19.
No one knows how long this pandemic or its impacts will last. It certainly has changed the workplace in unprecedented ways and perhaps, permanently, in some cases. Employers and staff are being far more diligent about cleanliness within the office. Technology is being embraced as a means of carrying on business in a time of social distancing and working from home has become commonplace.
COVID-19 is also changing the recruitment process. Interviews are more frequently going to take place using video conferencing tools such as Skype or Zoom. It may also take longer than normal for the recruitment process to occur.
Advancement of your career is important whether you were going all-out in a job search prior to the pandemic or you have been just getting in the game.
There are many steps you can be taking during this uncertain time to be prepared, ranging from updating your resume to taking an online course and expanding your online networking initiatives.
Kamara Toffolo is an Ottawa-based resume writer, LinkedIn consultant, job search strategist and speaker, provides 10 tips for seeking employment during a pandemic: https://bit.ly/2Qolrvz
Kamara creates videos directed at job seekers and shares them every Tuesday on LinkedIn. Consider following her or subscribing to her videos.
Another great Canadian employment advisor is Maureen McCann, a job search strategist and executive resume writer in Victoria, B.C.
We share some practical insight she posted on LinkedIn in late March:
"The world of work is changing before our eyes. Sadly, we've seen mass layoffs begin as businesses try to slow the impact of this global pandemic.
By late last week, over 50K Canadians had applied for Employment Insurance. (NOTE: This figure has since climbed to over 1 million). Adaptability and flexibility in a market suddenly flooded by job seekers, is going to be your greatest strength. How quickly can you pivot?
Identify the needs of the market. Pay attention to labour market information. What is happening in your local labour market right now? For example demand in tourism and hospitality appears to be dwindling (airlines, hotels). Conversely, there is demand in the healthcare/medical field, in the supply chain (warehousing and the movement of goods and services) and in large technology companies. (In the Grande Prairie area, jobs have been listed in trucking, cleaning, construction and home renovation stores).
Identify how you can fill a need in the market *today* One of the best things you can do for yourself is take inventory of what you have to offer and what problems you can solve. Having clarity about what you have to offer enables you to pivot quickly into new markets. There are loads of tools and resources available to job seekers.
Austin Belcak posted a comprehensive guide on job market insights and job search strategies. He is giving job seekers a generous leg up to help them navigate these sudden changes."
Although Austin's guide has an American perspective, there are some excellent insights into industries with opportunities. He also offers tips for conducting a job search during COVID-19: https://cultivatedculture.com/covid19-job-market-insights/
Austin is founder of Cultivated Culture, a professional training and coaching firm in New York City.
Staff at The Work Place in Grande Prairie continue to offer service via a revised delivery model as the Province of Alberta has directed us not to meet clients in-person during the pandemic.
We can guide eligible unemployed or underemployed clients (visit www.gpworkplace.ca for details) on how to update their resume and cover letters. We can be reached at 780-539-5477 or info@gpworkplace.ca
Meetings can be arranged via technologies such as Zoom and Skype.
Our staff can also assist you with your other job search tools and ensure you're using all the resources available to you, including accessing potential training opportunities. Your strategies may include updating or acquiring new skills online via webinars.
Here are some other resources to assist your job search during the pandemic:
https://www.orlandojobs.com/article/help-for-your-job-search-during-coronavirus-covid-19-uncertainty-important/
https://www.atriumstaff.com/5-tips-for-job-searching-during-coronavirus/
https://www.workitdaily.com/coronavirus-is-affecting-job-search/1-get-really-good-at-virtual-interviewing
https://www.thebalancecareers.com/how-to-handle-a-job-search-during-a-pandemic-4799787
Seeking work can become a job in itself and can be a frustrating process. While the current circumstances can test your mettle even more than normal, remember that your job as a job seeker is to shine and stand out above other candidates, regardless of the situation.
That's the bottom line of this article: https://azbigmedia.com/business/jobs/will-the-coronavirus-pandemic-slow-down-hiring-in-2020/