Job Market Doesn't Take Vacations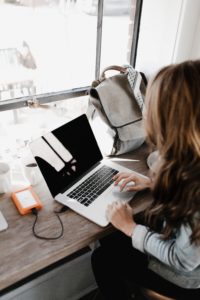 Ahhh, the sun's out, the birds are chirping and the beach is calling. Time to put the job search on the back burner until September, right? Not if you want to maintain momentum in your quest for new employment.
In this blog, we discuss why you should keep looking for your next gig this summer and tips on what you can do to keep in the game while also enjoying the season.
You certainly want to relish the precious warm days and take time to recharge, especially after navigating through another six months of the pandemic. However, there are many activities that you can be doing right now, even from the comfort of your deck – updating your resume and cover letter, reviewing your LinkedIn profile, sending emails to contacts advising them on your interest in new opportunities.
Do you have your references in order?
As Covid-19 restrictions lift, business and social gatherings will pick up again, presenting prospects to network in person.
Perhaps you're staying close to home this summer. Is it possible to pick up a new skill or do some volunteering to add credentials to your resume?
The bottom line is, if you're eying a new job for this fall, starting in September puts you behind the eight ball – in terms of the work needed to pursue openings that are available right away and potential lost opportunities.
Our first resource is an article by Andrew Seaman, Senior Editor for Job Search & Careers at LinkedIn News. He works out of New York and the article has an American flavour but offers some great: https://bit.ly/3jnG5eW
Here are more reasons to continue your job search during the summer and tips on how to go about it:
https://www.theheadhunters.ca/blog/4-reasons-why-you-should-be-job-hunting-this-summer/
https://www.thejobnetwork.com/5-reasons-why-summer-job-hunting-will-get-you-a-job-062016/
https://www.aarp.org/work/job-hunting/info-2017/job-search-in-summer-lr.html
https://ca.topresume.com/career-advice/job-search-for-summer
https://www.themuse.com/advice/4-reasons-summers-actually-the-best-time-to-job-search
We have more discussion on this topic below. First, though, here's some information on how we can help you in your summer job search or any time.
At The Work Place, unemployed and underemployed Grande Prairie and area residents can access a variety of job search consultation services, including resume and cover letter preparation, at no cost.
Job Search Resources
While our physical office is closed, we continue to operate virtually to assist job seekers with a variety of services.
One-to-one employment counselling services and workshops are available via phone, email or video-based technologies such as Zoom.
Staff can help unemployed and underemployed individuals assess how they can address career decision making, including new skills and training they may want to consider.
Enquiries can be made by calling 780-539-5477, Ext. 104. Our Employment Coach, Catherine Dyer, will be happy to provide you information on our services. You can also email us at info@gpworkplace.ca. Our website is www.gpworkplace.ca
More on Summer Job Searches
There are many myths about job hunting in the summer. Read this article for some discussion on this topic: https://optimumtalent.com/5-myths-summer-job-hunting/
Trends
Here's a resource discussing trends related to job searching in the summer: https://www.themuse.com/advice/summer-job-search-trends
This article discusses the process of job hunting in each season and while summer isn't considered by some to be the optimal time to land a job, it's not a time to shut down your search: https://ca.topresume.com/career-advice/the-best-times-of-the-year-to-job-search
Check out this link for some interesting thoughts on job market trends and considerations on how to adapt to various situations, including the possibility of making a pivot in your career: https://www.themuse.com/advice/job-search-trends-tips-2021
Easy Does It
Finally, here are some low impact activities to keep your mind in the game, even in your downtime: https://www.inc.com/jt-odonnell/7-summer-activities-that-will-improve-your-career.html
Here To Serve You
If you're currently in the job market, we wish you the best and look forward to helping you land that next great job – this summer or later in the year.