Make Words In Your Resume Count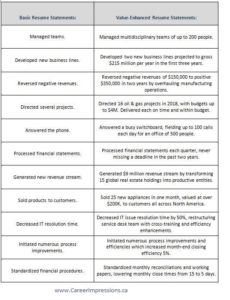 It's more important than ever that your resume stands out from the rest.
In a competitive marketplace with hundreds of applicants to screen, employers want to hone in quickly to the information they're seeking. They want to see which candidates' resumes best fit their criteria.
Therefore, the content of your job search documents needs to jump out to them. Help them get there by illustrating you're capable of what they're asking their new recruit to do.
If you're unemployed or unemployed, staff at The Work Place in Grande Prairie can help you choose the right words and phrases to make your resume and cover letter shine. (see contact information below).
The featured chart shows how building on some common resume phrases can make a huge difference on whether an employer takes interest in your application.
Hiring managers and recruiters want to see concrete examples that demonstrate you can perform the tasks outlined in the job ad – and how well.
Details, particularly those that contribute to the bottom line, are extremely helpful. If you're seeking a supervisory position, being able to cite how many staff you've managed and the level of budget responsibility you've had are key pieces of information to include in your resume.
It's also a significant inclusion if you can demonstrate how you've made a difference in a workplace. For example, have you initiated a new process or program that's created efficiencies or made an impact to your organization in another way?
Every time you add an accomplishment to your resume, consider that the person who reads it will ask, "how?" You can make it easy for them by detailing the achievement.
Here's an article that will help you select action words that will also help your resume and cover letter be more compelling: https://www.themuse.com/advice/185-powerful-verbs-that-will-make-your-resume-awesome
If you are unemployed or underemployed and want more help with your job search at no cost, contact us at 780-539-5477. You can send enquiries to info@gpworkplace.ca.
We also help employers find qualified candidates.