Meet Our Staff – Nevin Bakir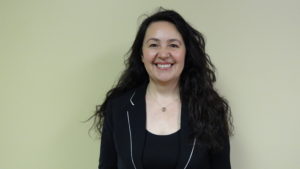 Position: Employment Specialist
 Years with The Work Place: One year and 3 months
Role: Nevin researches potential employment opportunities for clients by assessing openings and ensuring a match with their skills, qualifications and goals. She supports job seekers including guidance on steps needed to achieve certificates and short-term training required by employers.
Nevin undertakes proactive outreach with businesses and industry groups to identify prospective vacancies and labour market trends. She also collects information from employers related to job orders including position requirements and skills. Nevin delivers employment-related information to employers on human resources and employment standards.
She raises awareness about attitudinal barriers and works to remove stigmas attached to specific job seeker groups. Nevin attends career fairs, trade shows and other employment-related events where she shares employer marketing materials.
Nevin explores opportunities for job shadows and pursues potential volunteer placements for clients with employers. She conducts follow up with businesses to gauge the success of current arrangements and to discuss potential further opportunities. Her duties also include facilitating workshops and Employment Support Sessions while providing job maintenance support to clients and ensuring documentation is accurately recorded.
 Education and Career: Nevin was previously the Settlement Practitioner and Volunteer Coordinator at Grande Prairie Centre for Newcomers and worked earlier with Immigrant Settlement Services, helping immigrants settle and adjust to the community. Nevin was also a Community Engagement Co-ordinator at the Canadian Cancer Society.
She brings a variety of other experiences to The Work Place, including employment in guest relations at a holiday resort in Turkey, a French teacher assistant, and a personal banking representative.
Her education includes a diploma in Business Administration with a major in finance, and a childcare staff qualifications certificate, along with ongoing attendance at professional development workshops.
Community Involvement:
Ecole Nouvelle Frontiere – President, 2014-2015
Early Child Development Mapping Project (ECMap) Member, 2012-2014
ACFA Board Member, 2008-2014
Grande Prairie Century Play/Vice President, 2012-2014
Grande Prairie Volunteer Services Bureau Conference Planning Committee, 2013-2014
International Racism and Discrimination Celebration/Planning Committee, 2015
Welcoming and Inclusive Community in Grande Prairie and Arts and Newcomers, 2014
 Accomplishments: In addition to being fluent in English, French, Russian, Ukrainian, Bulgarian, Turkish, Macedonian and Serbian, Nevin is pursuing a Teaching a Second Language Certificate – Level 1 through the University of Calgary. As well, she is very artistic, creating beautiful paintings and crafting handmade knitwear and accessories.