New Year Great Time To Review Resume
 "If you always d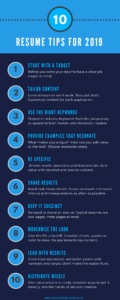 o what you've always done, you'll always get what you've always gotten."
This quote attributed to Tony Robbins speaks to everyday life and it certainly applies to your job search tools.
Is your resume multiple pages long? Does it look like it was composed on a typewriter? Is it chock-full of irrelevant personal information? If you answered yes to any or all of these questions, you should be heading into 2019 with an upgraded document.
If you're unemployed or underemployed, staff at The Work Place in Grande Prairie can help you modernize your resume and cover letters and coach you in contemporary job search skills (see contact information below).
When you're crafting your resume, consider that most job openings result in hundreds of responses. As well, remember that many companies now use application tracking systems to assist recruiters and hiring managers sort through applications. Therefore, it's more important than ever that key, relevant information stands out.
Help the reader hone in on key details with examples that illustrate your accomplishments.
Above all, remember that your resume is your professional brand statement to help sell you to prospective employers. If you think of yourself as a product that you're promoting, what are your selling points?
Here are some things to consider with these points in mind:
• What distinguishes you from other applicants with the similar experience?
• What is the greatest value an employer can gain from you?
• What have you consistently achieved during your career?
• What initiatives have you developed and implemented that helped companies increase revenue, profitability, sales, safety, performance levels, productivity or satisfaction?
• Did you generate new business, bring in new clients, or forge profitable partnerships?
• Did you save companies money or increase competitive edge?
This article will help you with other tips to update your resume: http://careerimpressions.ca/blog/2018/10/outdated-resume-tactics/#sthash.s6R4whlP.qzh5CfqX.dpbs
This post provides some insights on preparing your overall job search game plan for 2019: http://careerimpressions.ca/blog/2018/12/kick-start-career-success-in-2019/#sthash.8sEPSjbA.9CGmlpcv.dpbs
You'll also find this chart useful:
If you are unemployed or underemployed and want more help with your job search at no cost, contact us at 780-539-5477. You can send enquiries to info@gpworkplace.ca
We're located at #105, 9840 97 Avenue, Grande Prairie, Alberta.
We also help employers find qualified candidates.