Next Job Fair Nears – Be Prepared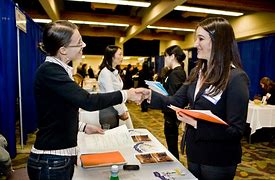 If you're busy applying for employment in the Grande Prairie area, job fairs should be part of your strategy to find a new position. The next multiple employer event is just around the corner.
If you're unemployed or underemployed, staff at The Work Place in Grande Prairie can help eligible individuals (see www.gpworkplace.ca) to ensure they're prepared for this event, including assistance with resumes and cover letters.
The upcoming Grande Prairie Job Fair is on Feb. 26, from noon to 6:00 p.m. at the Holiday Inn, 9816 107 St, Grande Prairie. Recruiters from a range of companies will be on hand. For more information, check out www.gpjobfair.com. The list of participating businesses will be posted closer to the event.
This is a great opportunity to connect with hiring personnel from a variety of companies under one roof.
The articles we've included below offer numerous tips on how to maximize your opportunity. The key is to be prepared, just as if you are going to an interview.
Don't attend the event as if were one of many errands on a Saturday afternoon. Be well rested, nicely groomed and present yourself with attire appropriate for the workplace. Check out the list of employers ahead of time and determine which ones fit your career path. Do research on them and their key staff.
Ensure you have plenty of resumes and even cover letters if some of the companies are of high interest. Be prepared to take notes so take paper and pen. If you have business cards, be sure to have a good supply.
There may be lineups at some booths. Be patient. When your turn comes, be polite, ready to promote yourself and have questions prepared. Ensure you collect contact information to follow up. If you're planning to reach out to your new connections on LinkedIn, remember to send a personalized note.
Ensure your phone is on vibrate so you're not interrupted during a conversation with an employer.
https://ca.topresume.com/career-advice/job-fair
https://www.monster.ca/career-advice/article/six-job-fair-etiquette-tips
https://ywcavan.org/blog/2018/05/10-tips-succeed-job-fair
https://career.berkeley.edu/Fairs/fairsTips
If you want more help with your job search at no cost, contact us at 780-539-5477. You can send enquiries to info@gpworkplace.ca. Our office is located at #105, 9840-97th Ave., Grande Prairie.
We also help employers find qualified candidates.