Pregnant And In The Job Market?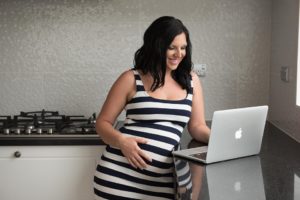 If you're about to take on the job of a mom, should you be seeking new employment at the same time? There's a lot to consider, but there is no reason not to if there's a position you really want.
In this blog, we explore the topic of applying for jobs while pregnant – things to consider and some of the legislation related to looking for a new position while carrying a baby.
Many of the same issues that would come into play for any job seeker remain valid at this time.
For example, are you considering a career move for greater learning opportunities, more responsibility or additional training possibilities? Is better pay motivating your job search? Have you found you are stuck in a rut or in a challenging or toxic work environment?
A good question to ask yourself is whether you are looking for another job or is it a career move? If it's the latter, is now the time to be taking on a new challenge or is it too good an opportunity to pass up?
The place you are in your career may also play a factor in your thinking. Do you already have children? Where does being a parent fit into your career plans? How soon would you want to return to the workplace after giving birth? Do you have a strong family support system?
Staff at The Work Place in Grande Prairie can guide eligible unemployed or underemployed clients (visit www.gpworkplace.ca for details) on how to address your job search while pregnant.
They can also assist you with your other job search tools and ensure you're using all the resources available to you, including accessing potential training opportunities (see contact details below). Your strategies may include updating or acquiring new skills.
This video discusses how to address applying for jobs while showing and what to do: https://bit.ly/2GIiUYc
Here's a Workopolis article discussing seeking work while pregnant:
https://careers.workopolis.com/advice/how-to-look-for-a-job-when-youre-pregnant/
In this Monster.ca piece, you'll find some considerations to consider, including whether to reveal your situation: https://www.monster.ca/career-advice/article/job-search-while-pregnant-ca
Here's a feature focused on interviewing while pregnant: https://www.cleverism.com/unofficial-rules-of-job-hunting-while-youre-pregnant/
Here's an article regarding pregnancy rights in Canada: https://www.babycenter.ca/a537568/your-pregnancy-rights-in-canada
As always, consider the bottom line of why you're in a job search and how it fits into your career goal. If this is your dream job and part of your career plan and you have everything in order, go for it. Good luck.
If you want more help with your job search at no cost, contact us at 780-539-5477. You can send enquiries to info@gpworkplace.ca. Our office is located at #105, 9840-97th Ave., Grande Prairie.
 We also help employers find qualified candidates.