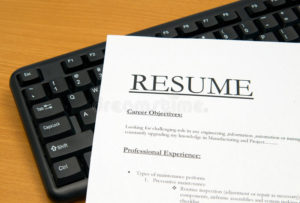 Show of hands … how many of you have seen a job advertisement with your name on it and had to scramble to create a resume and cover letter? Many readers have likely found themselves in this situation.
If you haven't updated your resume in more than a year, it's a good time to create a new document, one that you just have to tweak for a specific opening or to meet the standards of a prospective employer's Applicant Tracking System.
You never know when that unexpected opportunity will arise, whether a new job, a promotion or even for a volunteer position. And, let's face it, you can never be too prepared for a sudden change in your job status.
It's even helpful to have your resume handy when you're doing a performance review.
Revising Your Resume
Here are some resources on refreshing your resume and further discussion on the benefits of keeping your job search documents up to date:
https://www.indeed.com/career-advice/resumes-cover-letters/guide-to-updating-your-resume
https://ca.topresume.com/career-advice/benefits-of-proactively-updating-resume
https://www.chartercollege.edu/news-hub/why-its-important-regularly-update-your-resume
https://www.themuse.com/advice/6-good-reasons-to-always-keep-your-resume-updated
https://www.kellyservices.ca/ca/careers/career-resource-centre/job-search-strategies/why-you-should-keep-your-resume-and-cover-letter-up-to-date/
At The Work Place, unemployed and underemployed Grande Prairie and area residents can access a variety of job search consultation services, including resume and cover letter preparation, at no cost.
Job Search Resources
While our physical office is closed, we continue to operate virtually to assist job seekers with a variety of services.
One-to-one employment counselling services and workshops are available via phone, email or video-based technologies such as Zoom.
Staff can help unemployed and underemployed individuals assess how they can address career decision making, including new skills and training they may want to consider.
Enquiries can be made by calling 780-539-5477. One of our Employment Coaches will be happy to provide you information on our services. You can also email us at info@gpworkplace.ca. Our website is www.gpworkplace.ca
Naming Your Resume
Once your resume is complete, there are other details to consider, including how to name your file and recommended file types. Here are some links to help with questions:
https://www.careercontessa.com/advice/resume-naming-conventions/
https://www.randstad.ca/job-seeker/career-resources/resume-tips/which-resume-file-type-is-best/
Here To Serve You
If you're currently in the job market, we wish you the best and look forward to helping you land that next great job.