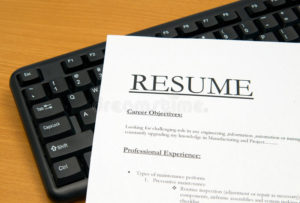 The discussion of how long a resume should be has carried on for generations.
If Goldilocks were an employment counsellor she would say, "Not too long, not too short, just right."
The goal of your resume is to encourage a hiring manager to reach out to you for an interview. Therefore, the length of this job search tool should be dictated by what you need to say to tell your career story effectively.
For some job seekers, one page will be sufficient. For people with many years of diverse experience and executives looking for new jobs, that may mean a two-page resume or possibly longer.
In this blog, we profile several resources which will guide you as you customize your resume for a fresh start in 2021.
This first Is a video by Kamara Toffolo, an Ottawa-based job search strategist, resume writer and LinkedIn consultant: https://bit.ly/3pBSUTb
Kamara shares timely videos on LinkedIn and Twitter every Tuesday and has live presentations on a variety of employment topics on Thursdays.
Check out more resources below.
At The Work Place in Grande Prairie, we specialize in assisting clients with resumes and other job search documents. While our physical office is closed, we continue to operate virtually to assist job seekers with a variety of services at no charge.
One-to-one employment counselling services and workshops are available via phone, email or video-based technologies such as Zoom.
Staff can help unemployed and underemployed individuals assess how they can address career decision making, including new skills and training they may want to consider.
Enquiries can be made by calling 780-539-5477. One of our Employment Coaches will be happy to provide you information on our services. You can also email us at info@gpworkplace.ca. Our website is www.gpworkplace.ca
These articles provide further discussion on resume length:
https://www.zipjob.com/blog/how-long-your-resume-should-be/
https://www.indeed.com/career-advice/resumes-cover-letters/how-long-should-a-resume-be
https://www.thejub.com/millennial-career-resources/how-long-should-a-resume-be
https://www.monster.ca/career-advice/article/how-to-decide-on-resume-length-canada
https://enhancv.com/blog/how-long-should-a-resume-be/
https://zety.com/blog/how-long-should-a-resume-be
Resume Tips For 2021
Kamara Toffolo also did a live presentation recently examining resume creation in today's marketplace: https://bit.ly/2M1F5Pm
Adrienne Tom, the president and chief executive resume strategist at Career Impressions in Calgary, is another job search consultant we reference routinely. Check out this blog she posted a few weeks ago: 21 Resume Tips for 2021 | Career Impressions
Here To Serve You
If you're currently in the job market, we wish you the best and look forward to helping you land that next great position.