Starting Job Interviews On The Right Track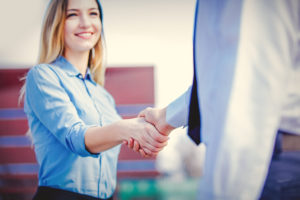 Do you have your game face on during job interviews?
Research shows many interviewers make hiring decisions within the first moments of an interview so it's important you're putting your best foot forward even before it begins.
In fact, start by making a good first impression with reception staff – you never know what they may say to the manager once the interview is finished.
In this blog we provide some resources to help you stand out, right from the beginning of the interview. Some pointers may seem obvious, some less so.
Start out with the mindset that you're going to a meeting to discuss work with colleagues in your field – not an interrogation session. This will help you relax and feel more confident about your conversation.
Greet office staff and your interviewers with a firm handshake, but not a bone crusher, make good eye contact, smile and use an even, but friendly tone of voice.
Work to make an easy connection. Ask your interviewers how their day is going. If you see a picture in the office that resonates with you, make a comment on it. Look for other ways to bond. For example, if you're a golfer and you see a set of clubs in the corner, mention how you enjoy time on the links as an ice breaker.
Display good posture social skills – no slouching or fidgeting and be mindful of physical, facial and grooming gestures. More on your presentation here – https://bit.ly/2IEyeGX
Be sure you've brushed up on the contents of your own resume and the company itself – familiarity with their operations and language is a plus.
Often you won't be asked for a portfolio, but it's a great idea to develop one and be prepared to show it, particularly if the position calls for creativity or if it helps you demonstrate you've excelled in a particular skill area.
Overall, consider how you will dress. Appropriate clothing and shoes will vary from workplace to workplace. You may consider asking about this when you're called to meet with your prospective employer. You don't want to over or under dress.
Staff at The Work Place in Grande Prairie can guide eligible unemployed or underemployed clients (visit www.gpworkplace.ca for details) on how to make a great impression throughout your interviews.
They can also assist you with your other job search tools and ensure you're using all the resources available to you, including accessing potential training opportunities (see contact details below). Your strategies may include updating or acquiring new skills.
The first two resources are excellent videos on the importance of making a great first impression:
https://www.youtube.com/watch?v=_BP7RE7TmtA
https://www.youtube.com/watch?v=mMXvMf_2EKs
Here are two articles to help you get off to a great start in your interviews: https://careers.workopolis.com/advice/first-impressions-four-things-employers-decide-about-you-in-four-seconds/
https://www.themuse.com/advice/8-ways-to-make-a-great-first-impression-at-an-interview
Ultimately, there are circumstances you cannot control in your job search. Another candidate may have higher qualifications or specific experience the company is seeking. How you prepare for your interview and perform is up to you. Remember, it's a lost opportunity if you don't have questions ready for your potential employer.
If you want more help with your job search at no cost, contact us at 780-539-5477. You can send enquiries to info@gpworkplace.ca. Our office is located at #105, 9840-97th Ave., Grande Prairie.
 We also help employers find qualified candidates.