Take Care Choosing Your References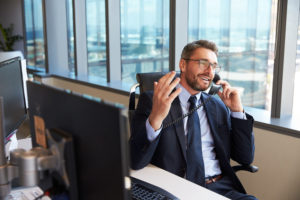 Ahhhh, you passed through that interview with flying colours and now the prospective employer is asking for your references. Are you panicking or confident that you've chosen the right people who can help elevate you into that new job?awkward altogether.
Don't take chances on someone not being able to help you put your best foot forward or, worse yet, saying something awkward altogether.
In our Feb. 21, blog, we posed the question: What Would Your References Say About You (https://www.gpworkplace.ca/blog/what-would-your-references-say-about-you/)? That article pointed to ways your references can speak to how you add value to the team.
However, you want references who can speak to your overall value and contributions. It's important to have contacts who can address your fit and related assets, but references are not requested by hiring companies so they can hear a sugary story about you.
You want to have supervisors, peers or even customers who can confirm the accuracy of information you presented in your interview and give solid examples of your accomplishments and contributions.
In a recent LinkedIn discussion about reference checks, Michelle Precourt, CHRL, recruitment expert and career coach in Ottawa, had this to say:
"Job Seekers should provide quality references that is, those who can speak to the specific skills and abilities of the person in question but we know that is not always the case. I've seen references who were parents, friends and spouses. If those folks say bad things, then the job seeker should re-evaluate their personal life before seeking a new job! Kidding aside, a valuable reference should be able to speak to specific projects and accomplishments in the previous place of employment."
From the employer side of things, she said, "If you are calling the reference, ask specific questions that will draw out specific responses. Asking if Johnny was a good employee is vague but if Johnny mentioned in the interview that he was the lead on the widget implementation project, then ask about that. Confirm what he said in the interview is accurate."
Staff at The Work Place in Grande Prairie can guide eligible unemployed or underemployed clients (visit www.gpworkplace.ca for details) on how to prepare for the entire job search process.
They can also assist you with your other job search tools and ensure you're using all the resources available to you, including accessing potential training opportunities (see contact details below). Your strategies may include updating or acquiring new skills.
These resources will help you select references who will help your cause in your effort to secure that desired new position:
https://www.monster.ca/career-advice/article/avoid-mistakes-with-references
https://alis.alberta.ca/look-for-work/resumes-and-references/choose-the-right-references/
https://www.utsc.utoronto.ca/aacc/managing-your-references
Think of your reference checks as the final stretch of the race to the finish line. You want to be on solid footing and raise your hands in victory, not be hampered by weak references.
 If you want more help with your job search at no cost, contact us at 780-539-5477. You can send enquiries to info@gpworkplace.ca. Our office is located at #105, 9840-97th Ave., Grande Prairie.
 We also help employers find qualified candidates.