The Finishing Touches Of A Cover Letter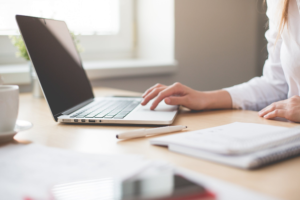 Your cover letter is intended to entice hiring managers to read your resume, so it's important to have compelling content, particularly the closing statement.
In this blog we provide links to some resources that will help job seekers consider how to wrap up their cover letter, to go beyond traditional phrases like … "I look forward to hearing from you" or "Thank you for your consideration".
In a sense, it's like you're a lawyer before a judge and you want a substantive statement to close before you rest your case – a statement that prompts the employer to go directly to your resume.
Consider a call to action, perhaps indicating that you will follow up shortly. Look for ways to close off showing your passion and enthusiasm in a professional manner.
Staff at The Work Place in Grande Prairie can guide eligible unemployed or underemployed clients (visit www.gpworkplace.ca for details) on how to make your cover letter stand out.
They can also assist you with your other job search tools and ensure you're using all the resources available to you, including accessing potential training opportunities (see contact details below). Your strategies may include updating or acquiring new skills.
Check out these resources as you examine how to write the final lines of your cover letters:
https://upjourney.com/how-to-end-a-cover-letter
https://www.best-job-interview.com/closing-a-cover-letter.html
https://www.nexxt.com/articles/what-is-a-proper-closing-on-a-cover-letter–16343-article.html
As with your resume, you want to make sure your words count. Taking extra care ending off your cover letter is a great way to keep the momentum going behind the marketing of you as a human resource.
If you're interested in tips on improving your cover letter overall, check out our Jan. 22 blog: https://bit.ly/2YgPquM. We also provided cover letter advice in our Dec. 17, 2018 article: https://bit.ly/2GqFS6h
If you want more help with your job search at no cost, contact us at 780-539-5477. You can send enquiries to info@gpworkplace.ca. Our office is located at #105, 9840-97th Ave., Grande Prairie.
 We also help employers find qualified candidates.