What is Your Personal Brand?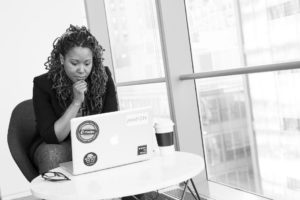 We all know the big corporate brand names from Amazon, Google, Apple and Sumsung to Coca-Cola, McDonald's and Nike. In the job market, how would you stand out from your competition?
What is your brand?
It's more important than ever that job seekers differentiate themselves from their peers and that they are also aware of their own brand – what others would say about them.
In this blog, we'll explore this question and offer resources on how to develop your brand in a job search to maximize your attributes.
The first link is to an interview job search expert Sarah Johnston conducted with Dave Gordon, an internationally recognized brand, marketing, and communications expert. He's the author of TIP, A Simple Strategy to Inspire High Performance and Lasting Success.
This is not a book endorsement. Dave's answers to the questions posed by Sarah provide some great insight for anyone on a job hunt: https://bit.ly/2TUCEib
At The Work Place in Grande Prairie, we are not yet able to welcome clients into our office. In light of COVID-19, we are monitoring Provincial Government Relaunch phasing and developing measures to ensure the health and safety of our staff and individuals looking for assistance. However, we can support job seekers via technology in many ways, including questions about how to stand out from competitors.
Staff can help unemployed and underemployed individuals assess how they can address career decision making, including new skills and training they may want to consider.
We can provide job search advisement, including assistance with your resume and cover letter via phone, email or video-based consultation via video technology such as Zoom, Skype and FaceTime.
Enquiries can be made by calling 780-539-5477. Catherine, our Employment Advisor, will be happy to provide you information on our services. You can also email us at  info@gpworkplace.ca. Our website is www.gpworkplace.ca
The Work Place also provides:
Assistance to develop/fine tune your job search skills: resume, cover letter, interview skills (including digital interviewing), LinkedIn Profile, and networking.
Resources/assessments to identify and/or develop your work-related skills.
Career planning guidance.
Website links to updated government and community information as well as online job search and career advancement resources.
Here are some other useful links related to addressing your personal brand:
https://www.monster.ca/career-advice/article/the-importance-of-your-personal-brand
https://www.adecco.ca/en-ca/blog/developing-your-personal-brand/
https://www.flexjobs.com/blog/post/how-to-create-a-personal-brand-to-enhance-your-job-search-v2/
https://themanifest.com/digital-marketing/5-personal-branding-tips-job-search
https://www.adecco.ca/en-ca/blog/why-linkedin-is-important-for-personal-branding/
This last resource is specifically directed to helping newcomers to Canada find success in the job market:
https://arrivein.com/career-ca/personal-branding-for-a-successful-career-in-canada/
Your personal brand will evolve over time as you acquire new skills, take on different responsibilities and expand your networks, professionally and personally.
By managing it, you can clearly up the ante on your competition. The first step is to be aware of how much it matters.
We extend best wishes, if you are currently conducting a job search.