Your Online Presence and Job Searching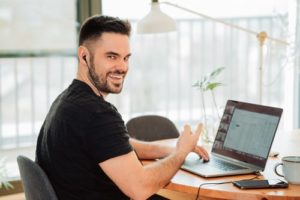 You have an outstanding resume and cover letter. You've been busy following up on job leads. With Covid-19 restrictions lifted, you're ready to get back to regular meetings and networking opportunities.
Have you boosted you online presence?
We've previously covered the pitfalls of having dicey content on your social media channels. In this blog, we focus on how to use online tools to your advantage in the job market.
You'll see resources to help you stand out positively online, whether you're being Googled, your LinkedIn profile is being viewed, you're looking to enhance your brand, you want to build connections and, yes, how to manage posts you don't want recruiters to see – though it's best to avoid photos and comments that might not align with the values of prospective workplaces.
The importance of doing an audit of your online presence has never been more important. Employers are increasingly using the Internet to recruit and job seekers have an abundance of opportunities to leverage themselves, including having a personal website or portfolio, if appropriate.
Begin by doing a Google search on yourself. For most accurate results, do so in incognito mode.
Review your social media accounts. Do you have any you haven't used in a few years, like Myspace from 2005? Posts that might not show you in the best light? Are you using LinkedIn to build your connections, share content, engage in relevant conversations and subscribing to discussion groups related to your industry?
Here are some links to help you get started on enhancing your online:
https://www.libertystaffing.ca/blog/how-to-prep-your-online-presence-for-a-job-search
https://charityvillage.com/how-optimize-your-digital-presence-for-your-job-search/
https://liveassets.ca/online-presence/
https://www.newpeople.ca/job-advice/if-you-are-job-searching-you-must-manage-your-online-presence/
These links are specifically related to social media:
https://www.monster.com/career-advice/article/social-media-tips-job-search
https://www.fullyprepped.ca/blog-posts/5-tips-to-polish-your-social-media-presence-for-your-job-search
https://www.hongkiat.com/blog/optimizing-online-presence-for-jobs/
How We Can Help
Addressing your online presence is just one way The Work Place can help you improve your chances of finding new employment.
At The Work Place, unemployed Grande Prairie and area residents can access a variety of job search consultation services, including resume and cover letter preparation, at no cost.
Job Search Resources
While our physical office is closed, we continue to operate virtually to assist job seekers with a variety of services.
One-to-one employment counselling services and workshops are available via phone, email or video-based technologies such as Zoom.
Staff can help unemployed individuals assess how they can address career decision making, including new skills and training they may want to consider.
Enquiries can be made by calling 780-539-5477, Ext. 104. Our Employment Coach, Catherine Dyer, will be happy to provide you information on our services. You can also email us at info@gpworkplace.ca. Our website is www.gpworkplace.ca
More Resources
These articles focus on how employers and job seekers can make use of the Internet in the recruitment process:
https://theundercoverrecruiter.com/online-presence-job-search/
Here To Serve You
 If you're seeking employment, we wish you the best and look forward to helping you land that next great position, including assisting with questions about how to get off to a great start on your new job.