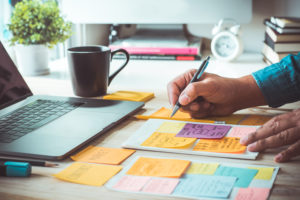 Coming up with recent accomplishments can be tough when you're busy revising your resume, especially when rushing to submit an application for a job ad.
Worse yet, you can be caught stammering during an interview if you haven't taken stock of on-the-job achievements.
Documenting successes as they happen may seem tedious at the time, but you will thank yourself later.
Do you have kudos from supervisors, clients or colleagues that may be helpful to reference in a job search? Did you complete projects over the last year with quantifiable results? Have you recommended changes in your workplace that resulted in cost savings? Have you mentored a colleague or even someone with a higher position?
In this blog, we share advice on tracking career wins and how to put these details to good use. In addition to using accomplishments for resumes, cover letters and other job search tools, they can be of great value when pursuing volunteer positions and furthering your education.
Staff at The Work Place in Grande Prairie can guide eligible unemployed or underemployed clients (visit www.gpworkplace.ca for details) on how to organize your job search documents and how to incorporate accomplishments.
They can also assist you with your other job search tools and ensure you're using all the resources available to you, including accessing potential training opportunities (see contact details below). Your strategies may include updating or acquiring new skills.
The first resource is a YouTube video by Kamara Toffolo from earlier in the year about keeping track of work wins: https://bit.ly/2ZwXp3J
Kamara, an Ottawa-based resume writer, LinkedIn consultant, job search strategist and speaker, creates videos directed at job seekers and shares them every Tuesday on LinkedIn. Consider following her or subscribing to her videos.
Here are some more resources directed at helping you keep track of career success stories:
https://www.topresume.com/career-advice/track-your-wins-throughout-the-year
http://careerimpressions.ca/blog/2019/03/keep-track-of-career-accomplishments/#sthash.Q0mvf42s.dpbs
Ultimately, you don't want to be caught flat-footed when an opportunity arises. Documenting accomplishments and recording kudos as they occur will save you time and stress at a time when you most need this information at your fingertips.
If you want more help with your job search at no cost, contact us at 780-539-5477. You can send enquiries to info@gpworkplace.ca. Our office is located at #105, 9840-97th Ave., Grande Prairie.
We also help employers find qualified candidates.