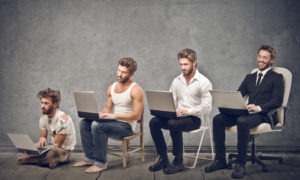 Acquiring new skills through training or further education is often recommended by employment counsellors as a way to advance careers. There are also improvements that we can make that don't cost any money or involve any special talent.
Examining how we act on a day-to-day basis and making adjustments can significantly impact how we're viewed by supervisors, colleagues and customers. Our conduct can even affect relationships at home and in our community activities.
In a two-part series, author Molly Fletcher explores behaviours that can be controlled to improve success. These include punctuality, flexibility, attitude, being coachable, preparedness, resourcefulness, empathy, work ethic, passion, humility, and confidentiality. For the complete discussion, check out these posts and the excellent resources included in their links:
https://mollyfletcher.com/zero-talent/
https://mollyfletcher.com/zero-talent-part-2/
Staff at The Work Place in Grande Prairie can guide eligible unemployed or underemployed clients (visit www.gpworkplace.ca for details) on how to fine tune-tune how they interact in the workplace for improved relations.
They can also assist you with your other job search tools and ensure you're using all the resources available to you, including accessing potential training opportunities (see contact details below). Your strategies may include updating or acquiring new skills.
It's important to be conscious of how we relate to others at work. If we want to advance, it's vital to consider the impression we leave with what we say, what we do and even our body language.
As Motivational speaker Tony Robbins reminds us, "If you always do what you've always done, you will always get what you've always gotten."
If you want more help with your job search at no cost, contact us at 780-539-5477. You can send enquiries to info@gpworkplace.ca. Our office is located at #105, 9840-97th Ave., Grande Prairie.
We also help employers find qualified candidates.
Learn more about our programs and services at www.gpworkplace.ca