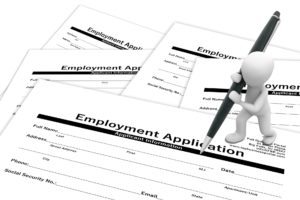 When you're on the job hunt, don't let up until you you've accepted that desired new position.
Even if you've had a couple of interviews at a company and everything is looking positive, that doesn't mean it's a done deal. You might be losing out on even better opportunities elsewhere by focusing on what seems to be a job that has your name written all over it..
Think of this situation like being on a sports team. You want to play to your fullest to secure a victory, never laying back to let the opponent back into the game.
Staff at The Work Place in Grande Prairie can guide eligible unemployed or underemployed clients (visit www.gpworkplace.ca for details) on how to manage your job search when you're applying to multiple employers.
They can also assist you with your job search tools and ensure you're using all the resources available to you, including accessing potential training opportunities (see contact details below). Your strategies may include updating or acquiring new skills.
It's important to be strategic as job search expert Sarah Johnston (www.briefcasecoach.com) discusses in her LinkedIn post last week featured below:
"I recently did interview coaching with a well-qualified senior level job seeker interviewing for his dream job. Everything about the position was exactly what he wanted.
First round interview ✅
Second round ✅
Third round ✅
And then…he was told, "we really like you as a candidate, but we are doing some restructuring and we need to figure out where this role fits".
As you can imagine, this was hard to hear. Three months wasted and now he is starting over in his search. He learned a valuable lesson.
If he wants to arrive at multiple options for his next job, then he needs to keep multiple prospective employers in play at all times.
This is the advice I will share with you too: If you get an interview at an amazing company in a role you are excited about, don't stop your search.
Continue leveraging your network and applying for roles to land others. Remember. You are more desirable when someone else wants you – and nothing motivates a company more to make an offer than when they know a competitor has already done so.
Having multiple "balls in the air" allows you to keep the process moving along and if played properly you could leverage one offer for another."
Sarah invited others to provide their feedback. Here's what some colleagues had to say:
Erin Kennedy, Founder & CEO, Professional Resume Services, Inc., said, "Ugh. I feel very bad for your client….it's a story I've heard as well. I tell my clients, "don't put all your eggs in one basket" because in reality, the company isn't only looking at you – they are interviewing other candidates as well."
Steven Lowell, Senior Executive Talent Manager, noted, "I push this on people all the time when they have a very active job search and gain momentum…. but then for some reason….stop when they have one interview that goes really well.
"I had found that this comes from a place of respect for the company. Some believe if they're going far into an interview it would be disrespectful to interview elsewhere. Maybe that was true once. Certainly not anymore."
"People should always have a number of leads when looking for work. Don Asher in his book, Cracking the Hidden Job Market, says you should have 100 leads at all times when looking. Not sure you need a 100, but I know you need to 'keep the pedal to the metal'," says Career Coach Jim Peakcock.
Career branding coach Gina Riley responded: "Solid advice, Sarah. I would add – it is a confidence boost when you have more than one offer or option. It is easier to value what you do and what you bring when multiple parties see this, too! Plus, you will likely make a better decision about where to land."
Resume Writer/Career Coach Michael DiLeone noted: "A client of mine had something similar recently. He had interviewed with a handful of companies – two of which he really wanted to get into. He made the third round in both and they selected other candidates. That is when we started working together for interview coaching.
"He got two more interviews about a month later. He received an offer from one of the companies and it turns out, as he said "this is my true dream job and I didn't even know it". Sometimes, rejection is a good thing because it means something better is out there!"
If you want more help with your job search at no cost, contact us at 780-539-5477. You can send enquiries to info@gpworkplace.ca. Our office is located at #105, 9840-97th Ave., Grande Prairie.
We also help employers find qualified candidates.