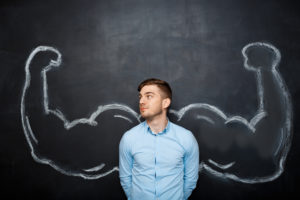 Hands up, who dreads being asked about their weaknesses during job interviews?
In previous blogs, we've discussed the importance of being prepared for interviews. This time, we focus on a question that routinely trips up candidates: "What is your biggest weakness?"
This isn't a trick question. Hiring managers are looking for a response that shows you are able to overcome adversity or obstacles.
The hiring employer doesn't want to hear you care too much or that you work too hard. They want to know you've identified areas to work on and have solutions.
For example, it you know you've been challenged by competing priorities, a remedy is to enrol in a time management class.
You can even be proactive in anticipating this tough question. Review the expectations of the job to see how you can tailor your response to a specific growth opportunity. If the employer is looking for strong leadership skills, you can reflect that you're confident in working with others but plan to take a supervisory course.
Staff at The Work Place in Grande Prairie can guide eligible unemployed or underemployed clients (visit www.gpworkplace.ca for details) on how to prepare for interviews.
They can also assist you with your other job search tools and ensure you're using all the resources available to you, including accessing potential training opportunities (see contact details below). Your strategies may include updating or acquiring new skills.
The links below provide resources on how to deal with the weaknesses question in interviews. They will help you capitalize on the enquiry if you're asked.
https://www.forbes.com/sites/jacquelynsmith/2013/02/19/how-to-talk-about-your-biggest-weakness-in-a-job-interview/#195043295a80
https://www.indeed.com/career-advice/interviewing/interview-question-what-are-your-strengths-and-weaknesses
https://www.sfu.ca/continuing-studies/career-help/blog/2015/how-to-answer-weakness-questions-in-an-interview.html
Preparation is the key to succeeding in interviews. Having examples to build on your answers is important, including how you are working to turn weaknesses into strengths. Also remember that a lost opportunity is not having questions of your own for the employer.
If you want more help with your job search at no cost, contact us at 780-539-5477. You can send enquiries to info@gpworkplace.ca. Our office is located at #105, 9840-97th Ave., Grande Prairie.
We also help employers find qualified candidates.