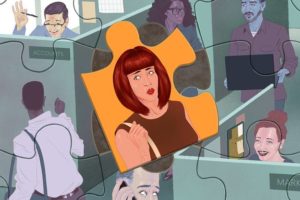 You enjoyed your previous job but it was time to find a new career opportunity.
You scoured the employment market, applied for several great openings and found a job that had your name written all over it. After going through a rigorous competition, you're offered a position that provides you with increased responsibility, higher pay and benefits, and opportunities to advance in the firm.
Your colleagues give you a huge send off after you announced you've accepted the new job and wish you well in your future endeavours. You've got it made!
Or so it seemed.
Within a few months, you realize this dream job had turned into a nightmare. Despite your best research efforts, this position is just not a fit. The culture is not what you envisioned. What now?
Changing jobs can be compared to starting a new relationship. Sometimes they blossom into forever situations. Other times, you're left wondering what you got yourself into and recognize you need to take steps to move on.
There are also occasions where the employer determines you don't fit into their plans and you are left on the outside looking in.
We have provided links to two articles below. One examines the situation where you realize a career move has gone sideways and what steps to take. The other provides some insight into how you can recover from termination.
Staff at The Work Place in Grande Prairie can guide eligible unemployed or underemployed clients (visit www.gpworkplace.ca for details) on how to recover from a bad career move.
They can also assist you with your job search tools and ensure you're using all the resources available to you, including accessing potential training opportunities (see contact details below). Your strategies may include updating or acquiring new skills.
If you've determined your new job is like a poor relationship, you need to get your career back on track as proactively and professionally as possible. Don't let your career or mental health suffer by struggling in a position that's not right for you. But remember, it's easier to find another job if you already have one, so be very cautious about simply up and leaving.
Whether you're exploring how to make the best of a poor situation or were not given a chance to explore your options, remind yourself that your abilities and skills have brought you to your current place in your career. As difficult as it may seem, you can dust yourself off and find a new and more suitable opportunity!
https://www.ellevatenetwork.com/articles/6687-made-a-bad-career-move-five-moves-to-help-you-recover
https://www.bluesteps.com/blog/bad-career-move
If you want more help with your job search at no cost, contact us at 780-539-5477. You can send enquiries to info@gpworkplace.ca. Our office is located at #105, 9840-97th Ave., Grande Prairie.
We also help employers find qualified candidates.
Learn more about our programs and services at www.gpworkplace.ca