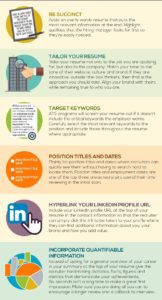 Job seekers will find conflicting advice about creating resumes, whether it's about their length, how they should be formatted, if photos should be included and, as we highlighted in an earlier blog, if paper resumes are actually still needed.
While there are no hard and fast rules regarding resumes, everyone will agree the goal is to get yours into the hiring manager's pile for interviews.
Consider how you can maximize your information to make sure employers will read on after the initial scan.
Jessica Hernandez, executive resume writer in Jacksonville Florida (GreatResumesFast.com) shared the chart below on LinkedIn last month. It provides some sound guidance to follow in preparing your resume.
Be succinct
Tailor your resume
Target key words
Take care to list position titles and dates clearly
Hyperlink and customize your LinkedIn profile URL
Incorporate information that demonstrates achievements
Staff at The Work Place in Grande Prairie can guide eligible unemployed or underemployed clients (visit www.gpworkplace.ca for details) on successful techniques for writing resumes.
They can also assist you with your other job search tools and ensure you're using all the resources available to you, including accessing potential training opportunities (see contact details below). Your strategies may include updating or acquiring new skills.
Following the six tips are easy ways to help you improve the impact of your resume. Ultimately the key is to have a professional presentation with key details that address the prospective employer's needs with information that is easy to locate.
If you want more help with your job search at no cost, contact us at 780-539-5477. You can send enquiries to info@gpworkplace.ca. Our office is located at #105, 9840-97th Ave., Grande Prairie.
We also help employers find qualified candidates.
Learn more about our programs and services at www.gpworkplace.ca