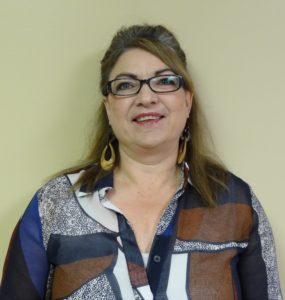 Position: Job Placement Services Employment Consultant
Years with The Work Place: Two
Role: Rhonda completes service provider intakes, determines client readiness, develops service plans, and, in co-ordination with the Job Placement Services team, delivers case management services, job supports and follow up. She consults with colleagues and community partners to assist and, where appropriate, refer individuals to support services.
Rhonda helps clients identify steps toward achieving objectives and a combination of services to reach goals. She supports clients in addressing barriers that may impact goals being completed. Rhonda identifies the support service needs of clients and interventions required to meet those needs.
Rhonda assists clients in understanding labour market conditions and changes, and the relevance of this information in choosing, preparing for, seeking or maintaining employment in a suitable job.
She facilitates small group workshops and provides employment support services such as preparing/updating/revising resumes, online employment applications, self-marketing, cover letters and interview coaching.
Other duties include referring clients to Alberta Works staff for funding toward exposure/short courses and employment supports, completion of reports and documents and maintaining accurate client statistics.
Education and Career: Rhonda has a significant background in working in the employment, social services, court and education settings.
She has experience as a Child, Youth and Family Counsellor, and is certified in Child Protective Services, Level 1 and 2 Supervision.  Rhonda has training in trauma informed counselling, mental health first aid, sexual assault first response, communication and conflict resolution skills, non-violent crisis intervention, suicide prevention, women in addiction, domestic violence, sexual offenders, family systems theory and analysis.
Rhonda has worked for more than two decades with vulnerable Albertans – in conjunction with schools, child protection, youth, justice, family court agencies, and contracted service/residential group homes.
She has experience as a foster parent, group home worker, psychiatric facility group co-leader, and Family Support Worker/Program Supervisor (where she oversaw 14 staff and four programs).
Rhonda has provided individual support and community support service to those with various disabilities.
Her background also includes managing a street level program for those that were homeless, addicted and involved with sex trade activities. She has also taught school groups for children affected by grief and loss.
Community Involvement: Rhonda has volunteered in a variety of capacities with PACE, including its wilderness rally, bingos, casinos, and the Walk a Mile in Her Shoes event.
Achievements: Rhonda co-created a pilot project recreational program to address grief, loss and positive relationships. It was focused on ages five to 15.
Rhonda also developed modified programming for students with various disorders/disabilities and/or mental health issues. She was recognized for leading a campaign to recruit, train and support therapeutic foster parents. Rhonda led a team at PACE achieving accreditation over four Children's Services-mandated programs receiving a 98 per cent satisfaction rate on client surveys.
Hobbies and Interests: A mother of two, Rhonda's pastimes include quilting, baking, walking her two dogs, and restoring items.